Client Viridor says delays on Glasgow plant due to issues with sub-structure works and subcontractors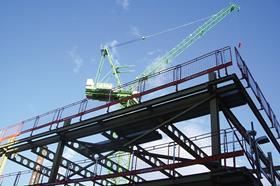 Interserve is running at least three months behind on a £154m waste-to-energy power plant in Glasgow, the client, energy giant Viridor, has admitted.
The plant – which will generate enough energy to power 22,000 homes – was originally planned to complete this spring, but Viridor told Building it now will not start to receive waste deliveries until the summer and will not be fully operational until December.
Viridor blamed the delay on "unforeseen geological formations" that put back the sub-structure works and "global economic conditions affecting three separate subcontractors".
The confirmation comes after multiple sources close to the project told Building the scheme was running months behind schedule.
The scheme is thought to be one of three loss-making waste-to-energy projects that impacted on Interserve's 2015 financial results, as flagged by the firm to investors in its results announcement in February and in a trading update last November.
Viridor has a 25-year contract from Glasgow council to design, build, finance and operate the facility.
The news comes as the project faces further industrial action next week over pay rates for some workers. Union Unite is in dispute with Interserve over claims some workers are being paid less than newer workers on the site. Unite members took strike action earlier this week and were also scheduled to strike on Tuesday and Wednesday next week as Building went to press.
The union claims that when construction work started, scaffolders and labourers were employed on CIJC agreed pay rates, but that Interserve is now employing newer workers on higher rates.
Stephen Deans, an official at Unite, said: "Interserve were clear. They said they priced the job on the [CIJC] rates they were paying and would not be paying more."
Interserve declined to comment.