Bruce Melizab to leave next month as senior management team set to be rebuilt by new chief exec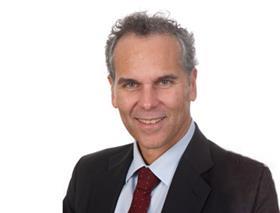 Interserve veteran Bruce Melizan is leaving the business after nearly 15 years with responsibility for the company's support services division now being taken over by chief executive Debbie White
Melizan (pictured) is going at the end of next month having stepped down from the main board last week.
The firm said the support services business – which has been hit with a run of bad news including falling margins and trading dropping off over the summer months – reporting directly to White.
Interserve said Melizan was going under the contractor's Fit for Growth programme, the initiative introduced by White in the autumn which has promised a return to industry norm margins and cutting costs with as many as 200 jobs among back-office staff, mid-management and corporate functions set to go.
Melizan, who joined from Amey after five years at the PFI and support services specialist, is the highest profile casualty of the firm's restructuring which is expected to see more jobs go as the firm struggles to meet its financial covenants this year.
Cenkos analyst Kevin Cammack said Melizan's departure signalled a rebuilding of the senior management team at the firm by White who has been in her p ost for just over three months.
He said: "Clearly this is all part of her restructuring and I imagine her desire to build a new team around her."
The contractor has been hit by a series of damaging blows in its attempts to pull out of its disastrous foray into the energy-from-waste market – the sector which involves turning household rubbish into energy.
In October, White was forced to add another £35m to its bill for getting out of the market which has already seen costs escalate twice since the firm announced last year it was pulling the plug.
It is due to complete its remaining five schemes – including those at Glasgow and Derby which use the complex gasification technology to turn rubbish into energy – next year but has already warned that the £195m it has shelled out on the sector might go up again.
In its last update on the issue in October, it admitted "significant uncertainty remains on the timing of commissioning" of the outstanding schemes.