Project will combine 750 employees under one roof
ISG has won a £28.5m fit-out project to deliver law firm DLA Piper's new UK headquarters in the City of London.
The scheme, designed by TP Bennett, will revamp 193,000ft2 of accommodation over eight floors at 160 Aldersgate, enabling DLA Piper to combine 750 employees from its two existing London offices.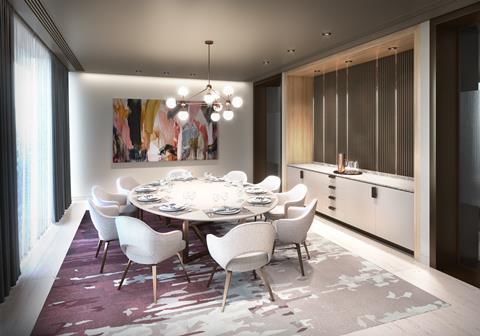 The project, which will feature an employee restaurant, gym, as well as a 200-seat auditorium and separate client dining areas (pictured), is set to complete next summer.
Andy Hargrave, divisional director at ISG, said: "As workspace requirements evolve rapidly, employers are increasingly focusing on flexibility, wellbeing and intelligent building controls and systems as key priorities.
"DLA Piper's new headquarters characterise this approach with hybrid spaces that encourage collaboration without compromising the requirement for private office areas and high-end meeting space."