Contractor will refurbish bottom six floors of the Grade II-listed building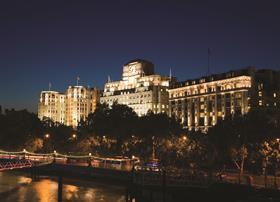 ISG has won a £30m job to fit-out the bottom six floors of the Grade II-listed art deco Adelphi on London's Victoria Embankment.
The 190,000 sq ft job includes reinstatement of internal light wells to maximise the volume of natural light entering the structure at lower levels.
As the upper half of the building will remain in occupation during the project, ISG will sequentially replace all 10 existing lifts and introduce a further two lifts, while maintaining continuity of services to remaining tenants.
The main reception area will be remodelled and new entrances introduced at levels one and three.
The project includes a major element of public realm improvement work, with new pedestrian areas and attractive hard and soft landscaping.
The Adelphi Building steps in at level six, and at this point ISG will create a new landscaped roof terrace area overlooking the reinstated glazed light wells.
Externally, the building's existing smoked glass windows will be replaced with high performance clear glass units. The project is scheduled for completion in summer 2015.
Alan McCarthy-Wyper, managing director of ISG's Construction business, said: "With the building part-occupied, in a busy central location and historically significant, the project encompasses a raft of challenges requiring a real breadth and depth of technical experience and effective implementation.
"Early engagement is central to this project and by deploying a highly experienced delivery team from the outset, Blackstone has maximised the benefit of our pre-construction and enabling works expertise.
"This collaborative approach at an early stage in the process has proved vital in developing the design and scope of the project, generating important cost and programme efficiencies."