John Gittins leaves firm's Bradford office to be replaced by Andy Mallice, the firm's northern regional managing director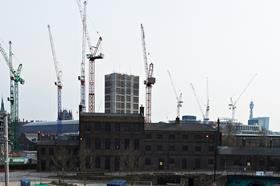 Contractor ISG's regional managing director for its north-eastern business has left the firm.
John Gittins, who was based out of the company's Bradford office, has left his post as managing director for the north-east.
His duties will be fulfilled by Andy Mallice, the firm's northern regional managing director.
Gittins had been at ISG since 2005 after a stint as a surveyor at Totty Construction Group and time working at Interserve throughout most of the nineties.
A spokesperson for ISG said Gittins had left the firm to "pursue other career opportunities". On his LinkedIn profile Gittins now lists himself as "seeking a new role".
The firm has recently picked up a number of contracts in the north of England including £22m of work for Cleveland Fire Authority, which will involve building four fire stations and a headquarters building.
The firm has also been appointed to deliver a clutch of public sector schemes totalling £7m under the North West Construction Hub framework.
In June, ISG said it was looking to slim down its construction business in response to a poor regional market. This announcement followed the UK construction MD Craig Tatton leaving the firm earlier this year.
Back then, the firm said: "In our UK construction business, trading conditions in the year have remained difficult, in particular in our Eastern and Midlands regions, where we are in the process of reorganisation to reflect the current market conditions.
"Overall for the year we anticipate a small decrease in revenue with a small recovery in margins before reorganisation costs."
It said it would continue to target growth in data centres, high-end residential and international work.
ISG has pursued an effort to become a global business and in June announced it had won £40m of work in Europe and Asia. The jobs included the fit-out of the flagship Tiffany's store in the Champs-Élysées in Paris, and a new store for Marks & Spencer close to Charles de Gaulle airport on the outskirts of the city.