Housebuilders cast further doubt on government housing policy as ministerial turnstile continues, according to Knight Frank research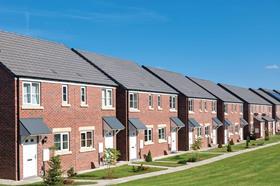 Almost 90% of housebuilders believe construction of 250,000 additional homes a year is the maximum achievable amount by 2022 – 50,000 short of the government's 300,000 target – according to Knight Frank
In its annual Housebuilding report, the property agent said 86% of housebuilders felt the government's targets were completely unachievable.
Just 1% of respondents, which include more than 100 developers that account for almost 75% of all newly-built homes across the country each year, think surpassing 300,000 additional homes each year is possible by 2022.
This news comes as the government seeks methods to speed up delivery of housing via a review of build out rates currently being conducted by Sir Oliver Letwin. He recently published a draft analysis stating absorption rates were the key factor limiting the speed of housebuilding in the country.
Despite this, respondents to Knight Frank's survey still identified planning as the biggest hurdle, with 39% identifying it as the top issue, although this is a decrease on last year.
The majority (55%) of respondents to the survey said if London mayor Sadiq Khan's affordable homes threshold of 35% was applied on a national basis it could hinder the delivery of affordable homes, suggesting that any threshold would need to be set locally.
But 62% of housebuilders said they favoured a threshold approach to affordable housing, provided the target was set clearly and adhered to, due to its transparency and the likelihood it would make bidding for land more competitive.
When asked for opinions on Brexit, the majority said that that an uncertain economy was the greatest risk to their business, followed by labour availability and access to materials.
Respondents said outer London zones three to six, the South East and the West Midlands presented the greatest opportunities during the next three years.
These figures cast further doubt on the deliverability of the government's housing policy, which was thrown into turmoil today when it was announced Dominic Raab would be leaving the housing minister post to take up the Brexit secretary mantle after just six months in the role. His successor Kit Walthouse is the fourth housing minister in two years.