Harrogate base part of joint venture with modular specialist Elliott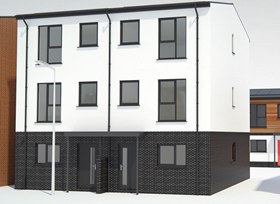 A joint venture set up between Doncaster housebuilder Keepmoat and Elliott Modular Buildings will begin producing the first of an expected 2,000 modular homes a year from next month.
The pair set up Ilke Homes last October with a remit to deliver homes ranging from two-storey terraced houses to three-storey semi-detached properties and blocks of flats of up to four storeys. The business said it hoped to grow staff numbers to 800 by 2021.
Production at the new 25,000 m2 factory in Harrogate, North Yorkshire, is set to kick off next month. Around 150 people will be employed there.unveil
Björn Conway, Ilke Homes chief executive, said: "Our culture will be very collaborative. The design engineering team will be hands on, working with the manufacturing team in the factory to solve issues and deliver a product that is not only truly cost effective, but also meets the needs of modern living."
As part of the industry's efforts to change consumer perceptions of pre-fabricated buildings BRE is to launch a new standard covering off-site production next month.