Ground engineering giant reports slow start to 2015, but expects second-half pick-up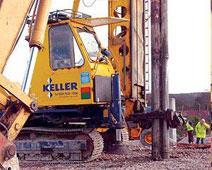 Keller Group has reported a slow start to 2015 with profit and revenue down, in large part due to a slowdown in activity in its Australia division.
In a trading update for the first four months to April, the international ground engineering specialist announced that profit for the group as a whole is down on last year after Keller Australia was hit by a slowdown in the country following the completion of its largest project, the A$230m (£118m) Wheatstone power plant project, at the end of 2014.
Despite the drop in profit and revenue, Keller said the slowdown in Australia was expected and its financial results for the year will be in line with market expectations "albeit more second half weighted than normal".
Keller said in Australia it was undertaking a "number of cost-cutting measures to re-size the business for current and anticipated work levels".
In its last set of full-year results for the 2014 calendar year, Keller reported a rise in operating profit in Australia, but the weakening Australian dollar meant operating profit was flat when converted into sterling.
In its latest update, Keller said its activity levels in the US so far this year had "increased considerably" after a slow start, but Keller Canada is "currently undertaking a further review of its cost base".
In Asia, trading in India has been "strong" with results above expectations, though elsewhere in the region the firm said it has suffered from low volumes. Keller said it expects a significant increase in revenue for the second half of the year.
Keller said its businesses in the Middle East and Africa had had a good start to the year, but there are "few signs of improvement" in the group's European businesses.