Firm teams up with Aecon for overhead line work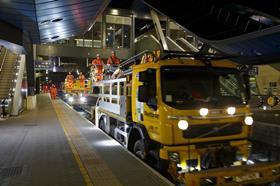 Keltbray is targeting overhead line work in Canada after teaming up with local firm Aecon as work in the sector in the UK slows down.
Canada is due to undergo a major overhaul of its overhead line network with CAD$11bn (£6.2bn) of works due to be spent on bringing systems up to scratch over the next 10 years.
Keltbray chief executive Brendan Kerr said: "The immediate future of the UK rail electrification arena looks less certain, and whilst we will maintain our commitment and focus on the UK market, it is only sensible and prudent for us to consider markets overseas which provide a greater degree of certainty in the medium term.
"Electrification is seen as a cornerstone in Canada's drive to tackle climate change, and with our track record, we see Canada as a market with major opportunities for Keltbray."
Aecon is listed on the Canadian stock exchange and last year posted revenue of CAD $2.8bn (£1.6bn) with operating profit of CAD$53.6m (£30m).
It was founded in 1877 and its main offices are in Toronto, Calgary and Vancouver. It works on infrastructure, energy and mining schemes.