Contractor appointed preferred bidder on two Argent schemes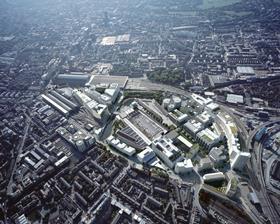 Kier has been appointed preferred bidder on two King's Cross projects for developer Argent worth £130m.
The buildings, named only as 'R7' and 'R8', comprise a 150,000 sq ft development of offices and retail space and a circa 200,000 sq ft residential and office development with private and affordable housing together with retail space. Both schemes will commence in 2016.
Haydn Mursell, chief executive of Kier, said: "We are delighted to be awarded two new contracts at King's Cross with Argent. Across this development, Kier is demonstrating its broad range of capabilities and we are proud to be part of the team revitalising this exciting area of London."
The firm also announced it has been selected on all three lots of the £4bn Southern Construction Framework.