Paul Sheffield says proposed acquistion will enable the business to offer an 'end-to-end' service to local authority clients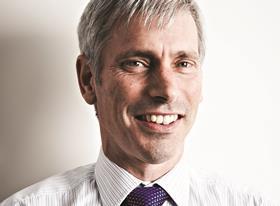 Kier's proposed acquisition of support services firm May Gurney will enable the business to offer an "end-to-end" service to local authority clients, according to chief executive Paul Sheffield.
Sheffield, speaking after Kier had announced it had agreed a £221m cash and share offer with May Gurney's board, said the acquisition would allow it to bid for highways and other contracts that it had previously had to decline.
The offer outbids by 35% a deal agreed with rival contractor Costain in March, with analysts predicting that Costain is unlikely to be able to rival Kier's 315p offer, which includes £35m in cash (see below).
Sheffield said: "This is a really fantastic opportunity to boost our services business in terms of volume, scale and depth, leaving Kier with a really strong mix of businesses that are to some extent counter-cyclical."
If approved the deal would create a business turning over £2.8bn and result in around 200 job cuts from overlapping services. The deal will see Kier combine its £445m services business with May Gurney to create a £1.1bn turnover services arm deriving two-thirds of its revenues from local authorities.
For local authority clients the deal will add highways maintenance, street lighting and underground services to Kier's roster of capabilities. Sheffield said: "Between us there will be nothing we can't do for local authorities, giving us a really compelling story around integration."
He said that last year Kier had been forced to turn down an opportunity to bid for a highways maintenance contract for an existing major customer, North Tyneside council, because it didn't have the capability. "Now we'd be able to put in a very cost effective bid, combining with the £50m of work we already do each year for that local authority."
In addition the acquisition would add a £180m turnover utilities business, mainly in the water industry, and a £36m fleet business.
Sheffield said there were no overlapping contracts which would force any customers to retender immediately, but, with the firm identifying 12 councils that already buy services from both, he admitted it was possible "there might be one or two who don't want to put all their eggs in one basket. But overall we see there are far more doors opening here than closing".
In Kier's offer it said it could find £20m of synergies, double the amount identified by Costain, and predicted the return on investment for Kier shareholders would be 15% by 2015.
Shareholders representing 16.5% of May Gurney had signed irrevocable undertakings supporting the deal by the time Building went to press, with final shareholder meetings to vote through the deal earmarked for mid June. Costain has until ten days before the shareholder meetings to table a counter offer.
Margaret Ford, chair of May Gurney, said: "This is a very good offer for our shareholders who have been very patient over the last year."
In response to the Kier deal, Costain said it was "considering its position and will make a further announcement in due course."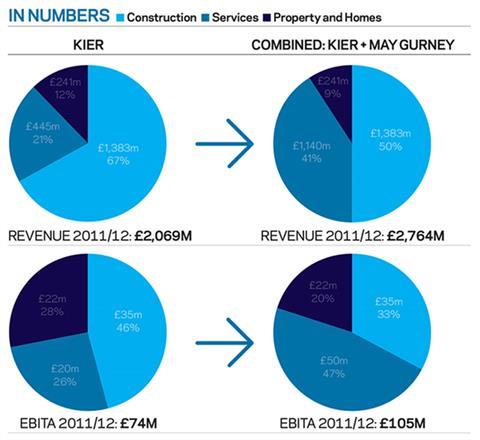 Reaction to the deal
Kevin Cammack, an analyst at Cenkos Securities, said: "Costain will be hard pressed to get near this – I always said an all-share nil premium merger is a hard deal to pull off in any circumstances.
"May Gurney adds scale and revenue in arguably Kier's most valued division as far as market perception and rating is concerned, but this is the first scale deal Kier has ever done in its corporate history and with management un-tested on integration, it is not without execution risk."
Joe Brent, an analyst at Liberum Capital, said: "It is impossible to rule out a further Costain bid. However, we do not believe Costain could justify the same level of synergies (less overlap) and we see this price as full. We expect the deal to go though on current terms.
"We expect [Kier's] bid … will be prove to be the knock-out bid."
Stephen Rawlinson, an analyst at Whitman Howard, said: "This appears to us to be a done deal as Costain will find it impossible to top it and there is no other third party waiting in the wings as far as we can see.
"Where does this leave Costain? As far as we are concerned no better than it was before and no worse other than carrying the costs of this aborted transaction.
"[But] after aborted bids for Mouchel (a close shave) and May Gurney, Costain needs to get back to the drawing board and assess fully what is achievable in terms of expansion.
"But that does not make it a bad business, indeed it is a very good one from what we can see and we suspect will be forced to rethink its expansion plans."