Haydn Mursell bangs drum for contractor, saying subbies can be confident in working with the group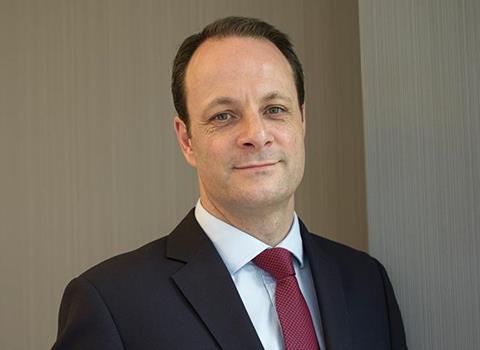 Kier's £264m rights issue, announced on Friday afternoon, might help to stop subcontractors deserting it after the firm's boss said the injection of new money would remove the threat to its future.
Chief executive Haydn Mursell admitted the government has also leaned on the group to shake up its payment terms, which, according to government data, takes 54 days to settle up with its suppliers.
Mursell (pictured) said the rights issue, which will see nearly 65 million new shares hit the market next month, had "completely de-risked" the firm.
Asked why suppliers would want to work with the group he said they should "look at us and see that we're now a much stronger business. We've removed the shadow created by our debt position."
Mursell told Building there was a lot of confidence in the business, "but the credit market has changed recently".
The firm's lenders include Santander which is understood to have lost £200m on Carillion following its collapse at the start of this year.
The Spanish banking giant had become increasingly wary of debt facilities continuing in a post-Carillion environment unless the group's balance sheet could be sorted out, Mursell said.
Kier had ruled out offloading any of its operations to bolster the balance sheet, such as its housing arm which last year generated a £26m pre-tax profit on turnover of £374m. Being a distressed seller of assets "would destroy their value", Mursell added, while the usual churn period of two to three years wasn't likely to be acceptable to the banks.
"The rights issue was the correct route for us to take [to raise cash]," Mursell said, who added that there would be no jobs cut among its 20,000-strong workforce.
"We're not like Carillion. We have one of the strongest balance sheets in the sector and instead of a pension deficit we have a surplus," he added.
Mursell, who over the summer began the Future Proofing Kier initiative to save £20m a year in cost savings from 2020, also admitted that around 5% of the group's 500 active projects were expected to lose money.
Kier's net debt at the end of its last year end in June was £186m, and between £180m and £200m of the £250m net proceeds from the rights issue will go towards putting the firm in a net cash position next year, Mursell said. The remaining funds will boost working capital which together with overall cash generation and Kier's 'Future Proofing' programme would generate £200m between now and the end of the 2021 financial year.
The chief executive acknowledged that the government had expressed concerns about its payment terms to suppliers and said he had been in talks with the Cabinet Office on the day of the rights issue.
Kier paid its suppliers in 54 days, "which is pretty standard", according to Mursell, and receives payments from clients in between 49 and 50 days. Balfour Beatty also pays its subbies in 54 days, according to recent research by Build UK, while among the contractors only Murphy Group was longer, at 66 days, according to the Build UK survey.
"We've not got a problem [improving our payment terms] but we need to be paid on time as well. We have a very close relationship [with government] and derive around half of our £4.5bn annual turnover from public sector projects," Mursell added.
He also said the firm had no plans to draw up a 'living will' like that requested of Interserve by the government in case it went bust.
Kier sprang the rights issue on an unsuspecting market on Friday afternoon, although Mursell said there was nothing sinister about the timing. "We'd worked last night [Thursday] and today [Friday] on the deal and it was a complicated transaction that needed i's dotted and t's crossed."
The group's shares fell by a third by the end of trading on Friday, ending the day at 507p, as investors digested the deal. But Mursell said this was a "mathematical adjustment" for the rights issue and once normal trading of the underwritten new shares he expected the group's overall stock to be trading at around 615p a share.
"The business is doing really well and the rights issue is a structural move to see off the debt risk," he added.
Mursell also said he had the full support of Kier's board and did not expect his position as chief executive to change.
Kier declined to comment on a presentation by an investor who has been shorting the group's stock recently and who took issue with the way it booked revenue and profits from jobs it undertook, other than to say its recent trading statement "demonstrates the strength in performance".