Contractor says just 5% of its workforce from EU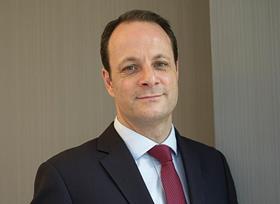 Kier boss Haydn Mursell has shrugged off wider industry fears about Brexit, saying that UK firms will have to bring in more homegrown staff when the country leaves the EU.
Worries that firms might not be able to meet the government's housing and infrastructure targets with ongoing access to EU workers have shot the top of the industry's agenda in recent weeks following a Home Office leak earlier this month which suggested a clampdown on EU migrant workers following Brexit in 2019.
But the boss of the country's fourth biggest contractor said Kier had little to fear when the UK leaves the EU in 18 months' time.
"We are certainly monitoring the situation but it is difficult to predict what will happen," Mursell (pictured) told Building. "While it might hit our supply chain, with only 5% of our workforce coming from the EU our exposure is relatively modest. It could be an opportunity to grow local talent."
He said he was still in the dark about what Brexit will actually look like. "But if Brexit means we have to face cost pressures, we will deal with that. The thing is, right now we don't know what it is that we don't know."
Earlier this month, construction's most powerful trade organisations joined forces to fire a warning about EU labour to Brexit secretary David Davis. In their letter the groups, which included Build UK, the Construction Industry Council and the Home Builders Federation, pointed that construction account ted for 10% of total UK employment but EU citizens accounted for 8% of construction workers, rising to 27% in London.
His comments came as Kier yesterday announced an £86m hit on closing operations in Hong Kong and the Caribbean.
Mursell said it had now drawn a line on the escalating cost of shutting its Caribbean arm which it said would be £18m when it announced the move last July.
But Kier has been forced to concede that its final bill for getting out of the region will now be £83m – five times the original estimate. Mursell said: "We are confident there will be no more charges in 2018."
The group was speaking as it announced annual turnover had risen 5% to £4.3bn in the year to June. The firm also climbed back into the black with a pre-tax profit of £25.8m following the £35m loss it posted last time.