Contractor picks up work but struggles to get paid for legacy jobs and work in Saudi Arabia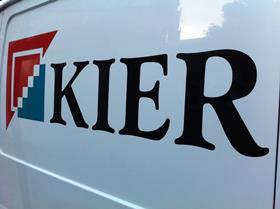 Kier's net debt has soared by £80m in the past six months as a result of delays both in settling accounts for "historic" projects, and in getting paid for work for the Saudi government.
Kier made the statement ahead of its annual general meeting today, where it was also due to announce it had secured an £90m raft of new regional building jobs.
In the statement Kier said it now expected net debt at the end of the year in December to be £220m, up from £141m at year end 2014. The firm said this was due to "investment in the property and residential divisions, delays both in receipts from public sector clients in Saudi Arabia until the first quarter of 2016 and the expected settlement of historic final accounts."
However the firm said it expected net debt to be back on course by June next year, and that it was still on course to deliver on its Kier 20:20 vision promise to reduce debt to the same level as ebitda profit, by 2017.
Kier said the integration of Mouchel was proceeding well, and that the construction business was generally performing as expected, despite "challenging" delays to its rail project in Hong Kong for MTRC.
Kier announced a range of project wins across the country, including construction of 300 new homes in Birmingham and Plymouth's tallest building, the 22-storey Beckley Court, for a price of £29.5m. In total it said the wins were worth £89.5m.
Kier said in the statement: "The Group remains on course to meet the Board's expectations for the current financial year. As previously forecast, and in line with last year, the Group's performance will be second-half weighted."
Kier's share price fell slightly in early trading, and was running down 4p at 1,320p. Whitman Howard analyst Stephen Rawlinson said: "The market is likely to focus on the net debt being a little higher than expected at the end of the half year as payments from Saudi and from historic contracts are delayed until the second half of the year. The company mentions several times that its numbers are 2H weighted. We are positive but suspect that it will struggle to make positive progress today."