Firm's acquisitions in recent years include Green Macs and May Gurney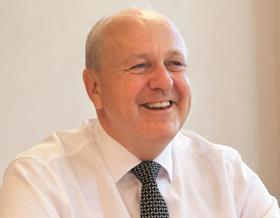 A former chief operating officer at Kier has suggested the contractor grew too quickly just as construction demand was slowing.
Stephen Bowcott (pictured) joined Kier in 2006 and was appointed construction director in 2010 before being made chief operating officer in 2013 as the firm acquired May Gurney.
Bowcott left Kier in 2015 to become managing director of John Sisk, the Dublin-headquartered contractor where he is now chief executive.
When asked about the 40% drop in Kier's share price last week following a £40m writedown, Bowcott said the firm "is a great company – and a great company doesn't become a non-great company overnight".
But he said: "It's seen a pretty substantial growth over the past four or five years […] and if you're growing [and] the market is softening, clearly you have a cost base which needs to be realigned pretty quickly.
"[Kier] needs time to decide what assets it wants to dispose of and it just needs time to get it back on track," he added.
When asked if Kier had taken on too much debt over the past five years – during which it spent more than £500m acquiring May Gurney, McNicholas Construction and Mouchel – Bowcott did not directly comment.
But he said: "I've been in the industry for 40 years and the one thing is cash is king. It's so important to have good cash control."
Kier's net debt reached £375m last year before the firm launched a £264m rights issue with the aim of paying much of it down.
In March Kier said its net debt at the end of 2018 was £180.5m – £50m higher than previously thought due to a previously undetected accounting error.