Called Pall Mall Exchange, the scheme will run across 37,000sq m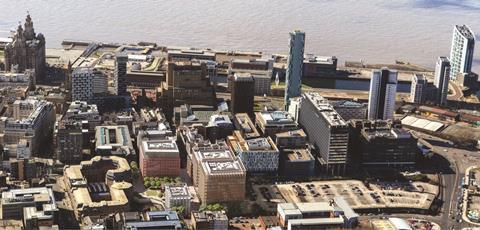 Indicative design for phase one of the Pall Mall Exchange development in Liverpool
Liverpool City Council has appointed Kier and developer CTP to deliver three new office buildings and public realm improvements for a business district expansion.
The authority said the Pall Mall Exchange development would deliver up to 37,000 sq m of Grade A office space and begin a "game changing" £200m transformation of the district, in the shadow of the city's Pier Head waterfront area.
The first phase of Pall Mall Exchange is part public realm and part car park, and earmarked for land near the city's historic Exchange Street station.
The second phase would connect to St Paul's Square, which is home to companies such as electronics giant Bosch, finance firm Investec, shipping company Maersk and banking group Santander.
The council said Kier and CTP's bid team, which also includes architect and masterplanner Allies & Morrison, would also be asked for ideas on how an adjoining 2.8ha car park could be redeveloped to provide a new hotel, up to 2,000 homes, leisure facilities and replacement car parking.
City mayor Joe Anderson said Kier and CTP had a "fabulous track record" for redevelopment.
"We know we need more top quality office accommodation in Liverpool and this site is perfect," he said. "Having a partner who has has an international reputation for delivering high profile schemes with flair and imagination is a great boost to our plans.
"As a growing city, it is vital we have the right office space available in the right place and Pall Mall is part of a natural expansion of the commercial district."
Kier Property north director James Nicholson said Pall Mall Exchange was "an exceptionally high profile scheme" that would raise Liverpool's status and contribute to the city's regeneration.
CTP chief executive David Topham said his firm – which was responsible for delivering Sheffield's St Paul's Place business development – had "tracked the Pall Mall site for over 10 years".
Liverpool said a planning application for Pall Mall Exchange was expected later this year.