Contractor to build apartment complex supported by funding from UK Export Finance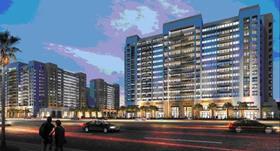 A Kier joint venture has won a £150m contract to build an apartment complex in Dubai.
Kier has partnered up in a 50-50 JV with Middle Eastern contractor Arabian Construction to build the mixed-use scheme, which will also include retail and leisure facilities.
Referred to as Plot 35 on Town Square, the 171,224sqm scheme will include 1,496 apartments as well as shops, a gym and a swimming pool.
Kier said the project will be funded with the support of UK Export Finance, a ministerial department which aims to ensure no viable UK export fails for lack of finance or insurance, while also aiming to operate at no net cost to the taxpayer.
The contract is the second resi deal Kier has won from the scheme's developer, UAE-based firm Nshmi, after it won a £50m contract from the developer last November.
Kier is also delivering a package of infrastructure works on the Town Square site for Nshmi, after winning a £12m contract last summer.