Greenwich Peninsula developer says London's housing shortage will keep the market "buoyant"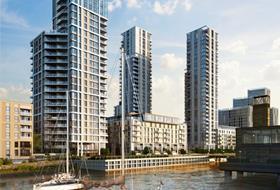 Greenwich Peninsula developer Knight Dragon expects the on-going housing shortages in the capital to keep the housing market "buoyant" as it develops out its 16,000-home east London scheme.
In Knight Dragon Developments latest set of UK accounts, filed at Companies House, its director Sammy Lee predicts London's supply and demand "imbalance" of housing "is unlikely to change significantly in the near future".
The directors also said the company "remains well-positioned" to negate any "potential negative effects" from the fluctuations in the commodity and labour markets and in interest and inflation rates.
In the year to March 2015 the firm - a subsidiary of a Hong Kong development giant - reported revenue of £58.3m, up from £20,000 pounds in 2014, as it ramped up delivery of the project after fully acquiring the scheme in 2013.
The firm also reported a pre-tax loss of £1.45m for 2015, down from a profit of £474,995 for the previous year. At the end of this financial year Knight Dragon Developments employed 38 staff.
The firm recently secured approval for a revised masterplan for Greenwich Peninusla that will see the overall area for consented development from 14 sq ft to 17 sq ft and the number of homes built from 10,000 to 16,000.