Boris Johnson has given the final approval required for Knight Dragon's revised Greenwich Peninsula masterplan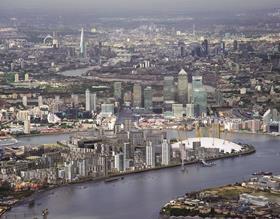 Mayor of London Boris Johnson has approved the revised masterplan for Knight Dragon's Greenwich Peninsula development.
The 80 hectare site will provide nearly 16,000 homes, 24,000 sq m of retail space, 60,000 sq m of commercial space, two hotels, two schools and a 40,000 sq m film studio in five neighbourhood zones.
Greenwich Council awarded planning permission for the revised plans in August, subject to the mayor's approval. Knight Dragon already has 2,882 homes under construction under the previous planning permission.
Johnson said: "This gigantic site at Greenwich Peninsula has sat dormant for far too long, so I'm pleased that since City Hall took control of this land, we are already beginning to see construction underway.
"This will not only provide thousands of much-needed new homes for Londoners, but also bring jobs as part of the wider regeneration towards the east of the capital."
Knight Dragon chief executive Richard Margree said: "The continued support of the Mayor and his team has given us the confidence and ambition to start the transformation of London's biggest regeneration site."