Deal is subject to approval from the UK government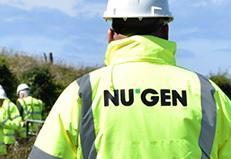 South Korean energy provider Korea Electric Power Corporation (KEPCO) has been chosen as the preferred bidder to buy the nuclear plant being developed in Cumbria by troubled Japanese industrial giant Toshiba.
In securing the agreement it beat off competition from China's state-owned power company.
Toshiba put the £15bn facility up for sale earlier this year after it reported a £3.8bn operating loss for the first three quarters of its last financial year.
Losses were caused by issues relating to its overseas nuclear operations and a subsequent filing in March for bankruptcy protection by its US nuclear arm Westinghouse Electric Company.
Representatives of the Chinese state owned power company State Nuclear Power Technology Corporation were reported to be interested in acquiring the facility.
KEPCO said its acquisition was subject to a number of factors, including what it called "a favourable outcome from a preliminary feasibility study to be conducted by the Korean government" and the approval of the deal from the UK government.