Ed Balls says party will draw up a draft bill designed to make findings of Sir John Armitt's review a reality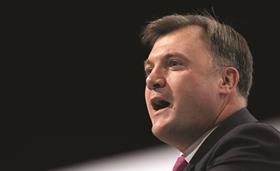 Shadow chancellor Ed Balls has pledged to draw up plans to implement the findings of Sir John Armitt's review of long-term infrastructure planning if Labour is elected to power in 2015.
Balls told the annual NHBC lunch that he had asked Sir John to pull together a white paper with the detail of how his proposed National infrastructure Commission will work, and that Labour Party officials would prepare a draft bill designed to make the Commission a reality.
Balls said: "Successive governments have missed the opportunity to build enough homes and provide the necessary infrastructure to back that.
"That's why I've written to Sir John Armitt and asked him to draw up a draft white paper detailing the policy and steps needed to deliver his proposed infrastructure commission.
"We will also pull together the draft legislation needed for the infrastructure commission."
Armitt recommended the setting up of a National Infrastructure Commission in the summer following a review, commissioned by Balls, into how to develop better long term planning for infrastructure in the UK.
Armitt's vision was designed to find a way to ensure cross-party political buy-in for projects likely to last for more than one parliament.
Balls confirmed previously announced plans from Labour to build 200,000 homes per year by 2020, but also said that a future Labour government would set up a series of development corporations with full powers to own, acquire and manage land and property, in order to build a raft of new towns.
Balls said these development corporations would be given the "full backing" of the Treasury to borrow money on the back of future business rate revenues.
He said: "These corporations need powers to do everything they need to do. One of these things is to have up-front finance to build the infrastructure these towns will need.
"The chancellor has shown he is willing to use the stability of the UK balance sheet to stand behind measures such as Help to Buy which encourage increased demand.
"But the chancellor should now step up to the plate to put the same backing behind new towns, with guarantees for development corporations.
"He can't afford to dither any longer."
Balls added that a future Labour government would make housing a "central economic priority".
He said the Bank of England should conduct an immediate review of the proposed second phase to the government's Help to Buy scheme, to examine whether there were risks of it creating an unsustainable house price bubble.
However, he stopped short of calling for the end to the scheme, saying that demand side measures such as Help to Buy should be matched by initiatives to boost the supply of new homes.
The comments came as the latest government figures showed the number of homes started in England in the third quarter of the year rose 8% on the second quarter, to 32,280.
Completions also rose by 5% in the third quarter on the prior three months.
However, the figures showed that the number of homes completed in the 12 months to September 2013 was still 8% lower than the 12 months to September 2012.
Nick Baveystock, director general of the Institution of Civil Engineers (ICE), welcomed the news regarding Armitt's infrastructure commission.
He said: "Effective delivery of nationally significant infrastructure needs continuity of decision making, stability for investors and integrated, long term plans - these are almost inevitably at odds with short term political needs.
"To get the infrastructure we need, on time and to budget, we must get better at generating cross party consensus. ICE has long championed the concept of an independent infrastructure commission as a vehicle to achieving this and we therefore support Sir John's proposals."
Kate Henderson, chief executive of the Town and Country Planning Association welcomed Balls' commitment to a new generation of beefed up development corporations.
She said: "The post-war New Town development corporations were tremendously successful and delivered homes for over two million people.
"The development corporations were purpose-designed to deliver large-scale joined-up development, and did so very effectively for over 40 years.
"The Act under which they were created still exists, but has not been used in recent times because some see them as agents of central government, imposed on local areas and denying local authorities of their normal rights and planning powers.
"However, the TCPA believes the historic development corporation model can be easily strengthened to make it more democratically accountable through allowing local authorities to create, and effectively own, the Development Corporation."
Mike Quinton, chief executive of the NHBC, said: "We are pleased to see that housebuilding will be given the full backing of a Labour government.
"While our figures show a sustained broad-based recovery in the UK new housing market this year, this growth is from an extremely low base."