Labour reaffirms plans to setup independent infrastructure body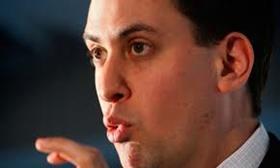 Labour has committed to HS2 and setting up an independent infrastructure commission in its newly-launched manifesto for business.
Launching the Labour's business manifesto in central London yesterday, Ed Miliband said: "Our plan is to work with all our businesses. With a government that balances the books, invests in infrastructure and works with you to improve skills and open up more competitive markets."
The proposed new National Infrastructure Commission would be tasked with responsibility for the nation's key infrastructure projects – including the party pledge to build up to 200,000 homes a year. National Infrastructure Goals include having five cities in the European top 20 for growth between now and 2045, a decarbonised power sector, an advanced telecommunications economy and new towns and urban extensions to ensure 200,000 new homes a year by 2020.
An independent infrastructure commission was proposed by the Labour-commissioned Sir John Armitt review of UK infrastructure policy.
The business manifesto also commited Labour to HS2, but said the party would limit spending on the £50bn project: "We will continue to support the construction of High Speed Two, while taking clear steps to ensure costs are kept down."