BBC investigation details 2007 meeting between senior civil servant and whistleblower Alan Wainwright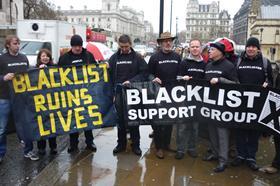 The Labour government failed to act on information from a whistleblower about blacklisting more than two years before it was publicly exposed, a new investigation has claimed.
In 2009, the Information Commissioner's Office raided blacklisting firm the Consulting Association (TCA), which checked potential recruits against a secret list for major construction firms.
However, according to a BBC investigation to be broadcast tonight on Radio 4's The Report, a DTI official received a detailed briefing about ongoing blacklisting and TCA boss Ian Kerr from whistleblower Alan Wainwright in 2007.
Scores of those whose details were kept have complained they were prevented from finding work because of their membership of trade unions or for raising health and safety concerns.
"In the last seven years, I've taken home 16 wage packets, the hardship's been terrible," electrician Steve Acheson, told the BBC.
"And I know other families are suffering in the same way," he said.
The files recovered by the ICO in 2009 include references to trade union "troublemakers" and even private details about some workers' wives and girlfriends, according to the programme.
In minutes of the meeting, which took place in January 2007 in a hotel in Chester between former Carillion employee Wainwright and senior DTI official Bernard Carter, Wainwright is described as having "direct experience of using lists to decide whether individual electricians should be employed".
The minutes also discuss a meeting between Wainwright and Kerr in 1997.
While the minutes say that Wainwright was not aware of the criteria TCA used to include names on its list, it says: "From conversations with colleagues and with electricians he assumed that troublemakers of various kinds were included and those who had been involved in organising or leading industrial action were likely to be included."
At the time of the 2007 meeting, the TUC had been urging the then government to activate part of the Employment Relations Act 1999 outlawing blacklisting because of anecdotal evidence from trade unionists that the problem was increasing.
The TUC claims it was told then that the regulations would not be enacted because of a lack of evidence.
Anti-blacklisting regulations were eventually introduced in 2010, the year after TCA had ceased operating.
A BIS spokesperson said: "Following [the meeting with Wainwright] a decision was taken that no immediate action was warranted; however the government continued to monitor the issue."
Labour has now called for a full-scale Leveson-style inquiry into the matter, which they have described as a national scandal.
Radio 4's The Report will be broadcast at 8pm tonight: http://www.bbc.co.uk/programmes/b00jkr1q