Is the cause of blacklisting a fundamental flaw in the relationship between workers and their bosses?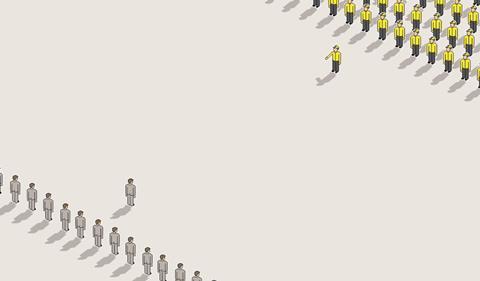 The growing scandal over blacklisting is one that has revealed some pretty dirty secrets at the heart of the UK construction industry. Workers were routinely denied employment because of the appearance of their names on a secret list run by the Consulting Association (TCA), with household name contractors deeply involved. Just last week Skanska UK was alleged to have supplied details of workers to go on to the blacklist, and Sir Robert McAlpine has been shown to have helped set up the system in the first place, even using it on the Olympics.
The industry's principle response is that the practice is historic: a reaction to past widespread industrial unrest such as on the Jubilee Line extension contract in the early 2000s; and one that has disappeared since laws against blacklisting were tightened in 2010.
But with disputes in the last three years over new contracts for M&E workers and the employment of foreign staff, it's not clear that industrial relations have improved - more that unrest is being kept in check by competition for site work in a recessionary market.
While union allegations that blacklisting continues are so far unproven, it seems clear the structure of the way the industry employs its workers - mostly indirectly and through short-term contracts - is relatively unchanged from before the 2009 exposure of TCA, with the Office of National Statistics finding that 58% of construction workers are self-employed in its most recent data.
The question is increasingly being asked as to whether there is a link between a casualised workforce in which employees have little job security, and this adversarial relationship with management. And whether it is this fundamentally antagonistic relationship between contractors and workers that allowed such a formal and extensive system of blacklisting to emerge in the first place. If that's the case, is there any evidence those structural causes of blacklisting have been tackled? And, with an interim victory for blacklisted electrician Dave Smith in an employment tribunal appeal last month [see box, right], is there now a chance that the courts might be about to force through reform?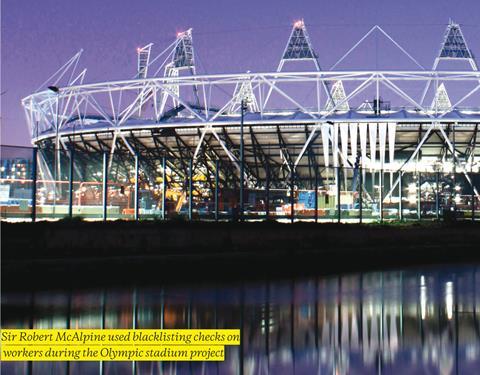 House in order
Former construction minister and honorary vice chairman of the Construction Industry Council, Nick Raynsford MP says the reliance of building contractors on casual labour is the "root cause" of blacklisting in the industry.
"If you employ people directly, in the course of recruitment you take up references and check their employment records," he says. "All these checks are open and above board and entirely proper."
Relying on casual labour, he says, creates layers between worker and employer and encourages secretive or underhand checking.
"You are depending on a pool of casual labour over which you have no direct control," he says. "The problem about blacklisting is that it is completely surreptitious and secret and gives the individual no right to challenge."
And while the laws against blacklisting have » » been tightened through amendments to the 1999 Employment Relations Act, Raynsford says these structural problems are still in place. He says he has been urging the industry to change for at least 15 years but believes it is "in denial" about the malign effects of blacklisting. "It's incumbent on the industry to get its house in order."
Steve Acheson, an electrician from Manchester who claims to have taken home just 16 wage packets in the past seven years after being blacklisted by TCA, is one who has seen this relationship up close. He claims his experience is that up to 95% of site workers are employed through agencies, with casual arrangements "rife" on recent landmark projects in the North-west, such as Manchester Royal Infirmary and MediaCity UK. This structure, he says, allows the contractor to remain in ultimate control and more easily blacklist the worker if relations break down entirely - though he makes no allegation of blacklisting on those specific jobs.
"Construction is an on-off industry and it has always been easy to get rid of people when a site comes to an end. Agencies can't be taken to court for blacklisting [checks undertaken by a main contractor] - they are a buffer to protect the construction company."
Trying to tackle casual labour, though, means facing up to one of the most entrenched traditions in contracting. The casual relationship between construction employers and employees is visible not only through the dependence on employment agencies but also through the related phenomenon of treating workers who behave as full-time employees as self-employed: so-called bogus self-employment.
This sees workers encouraged to set up limited companies in their own names or the creation of "composite companies" set up for the duration of a job which make a group of workers shareholders and pay those workers their salaries in the form of dividends. These types of casual employment deny workers employment rights and blur the relationship between them and their ultimate employer - the main contractor.
Acheson says: "A lot of these agencies have composite companies and some of the lads are paying £20 to get a pay statement.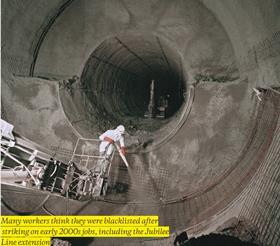 "They're not paying income tax, they're paying corporation tax, which is a lot less."
Government rules mean that both directly employed staff and agency staff accrue holiday pay, whereas self-employed contractors don't.
"A lot of blokes don't like being on [this type of contract] because it disguises the relationship between worker and employer, and if you ask for holiday pay, you'll be removed from site," Acheson adds.
This costs the Treasury an estimated £350m a year in lost revenue from construction and is the subject of an ongoing review by the Labour shadow cabinet, after attempts to crack down on it in 2009 were thwarted by the recession.
Liz Bridge, secretary of the Construction Industry Joint Taxation Committee (JTC), which represents 11 major trade federations including the UK Contractors Group (UKCG) and the Civil Engineering Contractors Association (CECA), says blacklisting is a "phenomena of disposable workforces".
Bridge argues that a wider problem is that construction remains stuck with a macho and old-fashioned mindset that works against employment rights in general. "It's a world of dinosaur trade practices," she says. "People [in management] feel that holiday pay is still a bit of an annoyance and a surprise to them."
Times of strife
Many workers are believed to have been blacklisted via TCA after major strikes in the nineties and early 2000s, including those at the Jubilee Line tube extension, the redevelopment of the Royal Opera House, and Pfizer manufacturing sites in Kent.
Mick Dooley, a former Ucatt official who was also blacklisted, says employers used the practice because they understand the potential power of small organised groups of specialist workers to halt jobs better than unions do. He says: "The employers understand how weak they are to an organised group of workers. They are more vulnerable in construction because of the speed of the industry. You have got all sorts of logistical problems. You have to get the project finished on time and will get charged a lot of money by the client if you don't."
While there have been no major strikes in recent years, widespread protests by electricians in 2011 and 2012 over the BESNA proposal to change contract terms - which ultimately succeeded in scrapping the proposal - have shown that industrial strife in construction is far from a thing of the past.
Stability needed for reform
Given this context, Bridge is sceptical about the chances of construction tackling its employment practices. Particularly as the lower level of taxation imposed on casual workers makes this form of working attractive to many of them, as well as the companies which employ them and their clients.
"The problem is so large," Bridge says. "I just don't think we can tackle it in a recession. It would cost everyone who wants building work. Because the cost of overheads would go up, the cost of buildings would go up.
"The time to make such a change would be when there's a lot of building work around and people have a lot of disposable income."
The government has attempted to help create the conditions in which the industry can change by providing a more predictable pipeline of public sector work, on the rationale that one of the principle drivers for main contractors employing through agencies or labour-only subcontractors is because it allows maximum flexibility in a stop-start sector.
Chairman of the Construction Industry Council, Jack Pringle, says the construction pipeline - published first in 2011 - could be a vital part of the solution for a sector which he describes as "an industry in name only".
However, repeated attempts by government figures - most recently former chief construction adviser Paul Morrell - to use this pipeline to persuade the industry to develop so-called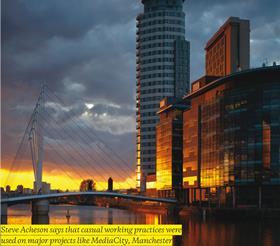 integrated supply chains, seem to have only been partially successful. Nevertheless, Pringle says the government remains in a "unique position to be able to order the market and make it more efficient rather than hyper-competitive."
But this is a hope for the longer term. Currently the only realistic prospect for changing this situation in the short term appears to be the legal test case brought by former electrician and leader of the Blacklist Support Group, Dave Smith, against Carillion. If he wins this the result could be to give temporary workers far more employment rights - a prospect which could impose massive costs on construction and the rest of the economy.
A source close to the case said: "Within employment law, the best rights are currently reserved for employees. The Dave Smith case could mean that where there has been a breach of Human Rights law, workers should be entitled to all the gold-plated rights that employees get, and that every worker should be treated as an employee."
This legal prospect aside, there seems little reason to believe that the deep-rooted and enduring structural factors behind blacklisting will alter, at least anytime soon. Big industry firms may well wind up apologising for past misdeeds and individuals blacklisted before 2009 may even be compensated. Meanwhile changes in the law look to have limited the practice. But it is sobering to reflect that the dysfunctional employment relationships that spawned blacklisting in the first place are still very much with us.
Could a blacklisting legal claim transform UK construction?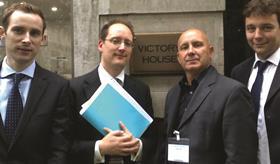 UK employment law is currently based on a distinction between the legal rights of "workers" and "employees". But that will now be challenged as part of a case which could have massive implications for the sector and indeed for employment as a whole.
Electrician Dave Smith - the most prominent of the workers blacklisted by The Consulting Association (TCA) - is suing Carillion over claims that it and predecessor company John Mowlem breached his rights to privacy and freedom of association under the Human Rights Act.
Smith (pictured, second from right with his legal team) says he was blacklisted after raising concerns about asbestos, poor toilet facilities and contaminated waste on London and Essex sites controlled by companies in what is now the Carillion group. His 36-page file from the blacklisting database contained detailed reports of his trade union activities and efforts to make building sites less dangerous, along with his national insurance number, political work, photos, his car and where his brother worked.
However, he lost his original employment tribunal claim in January last year despite the fact that Carillion accepted he had been blacklisted.
The tribunal accepted Carillion's argument that it was not legally responsible because it did not directly employ Smith, he was employed through an agency or subcontractor. However, at a preliminary hearing at the Employment Appeal Tribunal in February, Mr Justice Singh ruled that Smith's claim should be heard in full by a High Court judge noting it could have a legal importance "going well beyond this case or even blacklisting".
Mr Justice Singh, a former QC and founding member of Matrix Chambers, is a renowned figure in human rights law and the implication is that the Human Rights Act, which came into force in 2000, has not been properly applied to British employment law. This could set a precedent which would transform British employment law to give all workers - including agency staff and the self-employed - the same rights as directly employed workers. Should this happen, the results would be profound, particularly for an industry like construction, which is reliant on casual forms of labour.