Exclusive: Development and design director goes to work for Apple as new finance director appointed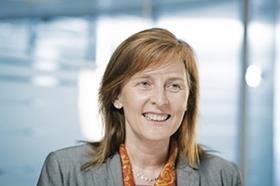 Laing O'Rourke's development and design director is to leave the contractor to head up Apple's development in the Far East, as the contractor also appoints a new finance boss, Building can reveal.
The changes come as incoming chief executive Anna Stewart (pictured) takes the helm at Laing O'Rourke this month.
Building understand that Ross Gates, development and design director, will leave the firm within the next couple of months to take up his role at Apple. Gates' responsibility at Laing O'Rourke stretches across the education, healthcare, commercial and retail sectors, but he has had a heavy involvement in the development of the firm's standardised schools offering. He is set to work over the coming months to help find a person to take his role or to set up interim arrangements for when he leaves.
Meanwhile, Callum Tuckett, head of Laing O'Rourke's UK business, has been appointed chief financial officer and chief commercial officer. Tuckett has been Laing O'Rourke's UK boss since February 2012.
Tuckett's appointment leaves his post as UK boss vacant. Tom Higgins, director of the north of UK and the director of the south UK Tommy Drumm, will report to Roger Robinson, director of Europe, until a replacement is found.
This week director Howard Shiplee also announced that he will be leaving the firm in May to take up a role at the Department for Work and Pensions leading the roll out of the government's new Universal Credit welfare system.