Contractor returns to profit for first time in four years
Laing O'Rourke has said it has no plans to look at new overseas markets after managing to stem losses on a disastrous PFI hospital contract in Canada which helped it return to the black last year.
Filing its latest report and accounts, the country's biggest private builder, which has previously filed its last two sets of numbers late, turned in a pre-tax profit for the first time in four years after cost blowouts on the Centre Hospitalier de l'Université de Montréal (CHUM) project helped rack up cumulative losses of £416m between 2016 and 2018.
But finance director Stewart McIntyre said the firm had turned a corner on the CHUM job and its losses on the scheme remained at £206m.
He said: "This is the first year [for a while] there's been no movement on the established financial outcome [of CHUM]. We're confident that will be the case going forward."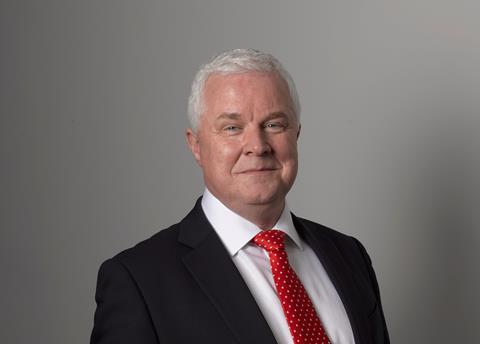 The firm has been carrying out the scheme in joint venture with Spanish contractor OHL and at the end of 2017 handed over building work on the second phase of the job to Canadian contractor Pomerleau.
McIntyre (pictured) said the firm's involvement with the scheme will last until phase two has been completed, which is scheduled for 2022. He added it was "very unlikely" the firm would be sustaining more losses on the job.
But he admitted the chastening it has taken in Canada has meant it has parked any ideas to look at new markets for its contracting arm.
"We've no plans to look at new territories," he said, adding the hit it has taken on CHUM would have been a "lot less" on a similar project in the UK.
He said: "It's a PFI in a foreign jurisdiction. You've got to be very careful about what type of contracts you enter into [overseas] and you need to do detailed research about the modus operandi of the local market."
The accounts also show that the firm racked up a further £3.2m hit in legal fees on top of the £3m it was forced to shell out to lawyers last year over a pay dispute with its Japanese partner on a huge gas station job in northern Australia.
The contractor was building four cryogenic tanks at the LNG Tanks Project in Darwin for lead construction partner Japanese firm Kawasaki Heavy Industries.
The firm has lost just over £40m on the job which terminated in 2017 and McIntyre admitted the arbitration process, which began last year, would take another two years to resolve. It is claiming costs on delays as well as claims for unpaid work.
The Australia business, which saw turnover fall 20% to £631m during the period, also racked up a £2.9m charge in restructuring costs. The firm said it completed a refinancing of the Australia business at the beginning of July with a renewal date penned for 31 December 2021 – the same deadline given to its UK business following its refinancing in February.
Laing O'Rourke's group pre-tax profit for the year to March 2019 was £32.8m compared to a pre-tax loss of £43.6m in 2018. Revenue was flat at £2.7bn.