Firm to build two pavillions and an access road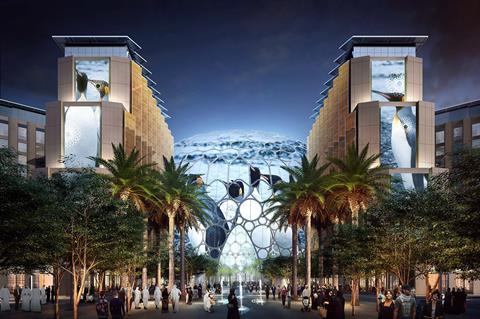 Laing O'Rourke has been awarded two contracts worth a combined £130m by Expo 2020 Dubai.
The contractor will build Expo 2020's leadership and media pavilions, as well as the event's 'Hammerhead' access road leading to Al Wasl Plaza (pictured) and landscaping. It will also be responsible for carrying out associated mechanical, electrical and plumbing works
Al Wasl Plaza will form the centrepiece of Expo 2020's in Dubai South. It will include a steel trellis dome, which was designed by Chicago-based Adrian Smith + Gordon Gill Architecture. The leadership and media pavilions will be transformed into hotels post-Expo.
The Hammerhead, named because of its shape, will lead into a truck tunnel that will run underneath Al Wasl Plaza, which was designed by Pasadena-based Parsons Corporation.
Laing O'Rourke is due to start work on Sunday (28 January). All shell-and-core construction on site is due to be completed by October 2019 - a full year before Expo 2020 opens.
Ray O'Rourke, chief executive at Laing O'Rourke, said: "The continuation of work in Dubai South is a great opportunity to showcase the strength of our Middle East team on Expo 2020. We are committed to local employment in the region, and innovation, through our approach to offsite manufacturing, building on the knowledge and experience we have gained in the Emirates over the past decade."
Ahmed Al Khatib, senior vice president of real estate and delivery at Expo 2020 Dubai, said Laing O'Rourke was chosen from among "strong international competitors due to its keen understanding of our technical and commercial requirements".
Construction related to Expo 2020 is expected to reach its peak towards the end of this year and early 2019.
There are currently around 12,000 people working across all projects on the site, which is expected to grow to 35,000 by the start of next year.
Expo 2020 Dubai will run for six months, from 20 October, 2020 to 10 April, 2021, and is expected to attract 25 million visitors, with 70% due to come from outside the UAE, the largest proportion in the history of World Expos.
More than 180 countries are expected to take part, with further participation announcements anticipated in the coming months.