Probe centres on two housing contracts with Hackney Homes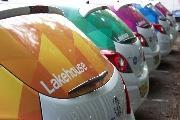 Lakehouse has confirmed it is cooperating with the Metropolitan Police in an ongoing fraud investigation concerning two contracts with Hackney Homes.
The social housing contractor issued a statement to the Stock Exchange last night after Hackney Council, which brought Hackney Homes back in house last year, flagged up the probe in a letter it sent out to chief executives of registered social landlords on Monday.
Lakehouse had mentioned the investigation in a prospectus it put out in March 2015, without naming the client.
But in its Stock Exchange announcement, the firm said: "We confirm that the client referred to…was Hackney Homes. The matters…have not changed materially since [March 2015] and it is important to point out that at no stage has there been any suggestion of fraud on Lakehouse's part."
Back in March 2015, the firm said it was "aware of alleged frauds relating to two specific contracts for a particular client having been carried out in 2013 and 2014 by certain employees of the company and certain sub-contractors, working in collusion with a consultant engaged by that client to oversee specific works carried out under those contracts".
It added the allegations related to over-payment, not carrying out work up to standard and processing invoices for work that was not completed.
At the time, it said it had made a £3m provision in its 2014 accounts which included £500,000 of legal fees.
In yesterday's statement, the firm said: "Lakehouse continues to co-operate with the Metropolitan Police in bringing the culprits to justice and the investigation extends not only to certain former rogue employees of and sub-contractors to Lakehouse, but also representatives of Hackney."
It added that an exceptional gain of £540,000 it announced in its interim results last month was "related to a series of successful adjudications by Lakehouse against Hackney Homes for works Hackney Homes alleged were defective and were determined to be fully due and payable".
It said it would "continue to pursue Hackney for further sums which we are due contractually and for which they have refused to make payment to date".
A Hackney Council and other partie concerned have been contacted for comment on the Lakehouse Stock Market statement. Hackney mayor Philip Glanville said: "It is right that councils and social landlords should work together, share information and support each other to prevent future tragedies."
Lakehouse also confirmed in yesterday's statement that its compliance business, Allied Protection, carried out certification works for Kensington & Chelsea council on the fire alarms fitted at the Grenfell Tower in west London.
It said: "Allied is satisfied the system was maintained in accordance with the requirements and all evidence presented to date indicates that it performed as it was designed to do. Allied was however not responsible for the specification of the system."
The fire at the tower has so far claimed 80 lives.