Director Steve Rawlings to step down if £345m social housing contractor is successful in stock exchange bid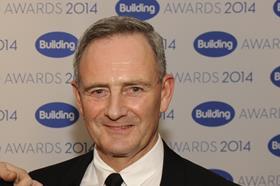 Lakehouse founder Steve Rawlings will step down as a director of the business if the £345m social housing contractor is successful in its bid to float on the stock exchange, announced this week.
The firm's executive chairman Stuart Black, who has overseen its rapid expansion since joining in 2008, said Rawlings (pictured at last year's Building awards) would retain some ownership but not be a director in the business if it floats as planned in March.
Black also said the company's growth strategy, which has seen its turnover increase sevenfold in just six years, would not change following a stock exchange listing, which is targeted to raise £30m.
Rawlings, currently a non-executive director and major shareholder, set up the business in 1988, and formally stepped down as chief executive in October last year in order to spend more time running his training-focused social enterprise Building Lives. Black said he had not been "actively involved" in the business for the last two years. "After flotation Rawlings will retain an interest but the exact amount is still to be discussed," said Black.
The Essex-based construction group has joined a number of companies that are due to float before the general election in May, such as infrastructure expert John Laing and manufacturer Eurocell. Lakehouse's flotation is set to value the company at around £200m.
The flotation plans come after Lakehouse reported pre-tax profit of £21.9m on revenue of £345.2m for the year ended 30 September 2014. In 2008, the year after Black joined, Lakehouse made a £1m profit on turnover of just £50m.
Black said growth opportunities would come from cross selling the new services from recently acquired businesses into existing customers, as well as by expanding Lakehouse's geographical coverage and small bolt-on acquisitions: "The strategy will remain the same as we have been pursuing for the last five years, to grow organically in our chosen markets, and add selective acquisitions. We fully intend to grow the business further."
The company, which makes four fifths of its turnover from selling maintenance, compliance and energy services to the social housing sector, and the rest from general construction work, employs 1,250 staff across the UK in 18 offices.