The retail developer also reported a drop in pretax profits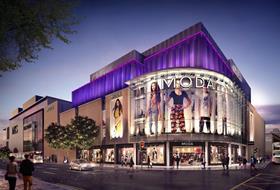 Land Securities chief executive Robert Noel has said a vote in favour of Brexit at the upcoming EU referendum would be "painful" for the property industry.
He added that it would also lead to "business uncertainty" while negotiations take place on an exit treaty.
"Uncertainty slows decision-making. Over the short term, we anticipate this would drive down occupational demand in our market. In turn, this would lead to falling rental values and a reduction in construction commitments, particularly in London," he said.
However, Noel said the company was positioned to "thrive whatever the outcome" as it reported strong full year results.
The retail developer posted a drop in pretax profit to £1.34bn for the year ended 31 March 2016, down from £2.4bn last year, which it said was due to valuation increases being unable to match the sharp increases in the previous year.
Land Securities also revealed that it is to cost the firm £5.6m to relocate its London head office from the Strand to Cardinal Place in Victoria.
On its development pipeline Land Securities reported that it would continue to keep it plans to extend Buchanan Galleries in Glasgow on hold.
The company placed the controversial £390m extension on ice back in July last year due to an "increased level of risk" from Network Rail's delivery of Edinburgh Glasgow improvement programme (EGIP) at the adjacent Queen Street Station.
Land Securities added that while it continued to work on plans to improve the retail, leisure and food offer at the centre though they are unlikely to be at the scale previously envisaged.
The developer said it expected to start on site at the mixed-use Selly Oak scheme in Birmingham in the autumn, but said "frustratingly" the planning process had been delayed for its plans to develop 240,000 sq ft of retail park at Worcester Woods.
At its major scheme Nova in Victoria London, Land Securities said it had received planning approval for 196,000 sq ft Nova East