Price plunge triggered by writedown at problem engineering business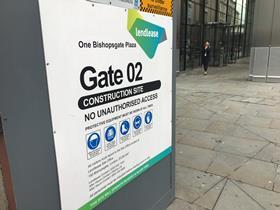 Lendlease is facing a potential class action from angry investors over a share price plunge last November.
The firm, which is listed on the Australian stock exchange in Sydney, told the markets on 9 November that it was facing a $350m (£189m) writedown at its engineering and services division because of problems on a road scheme in Sydney called NorthConnex.
It also said the business faced issues to do with wet weather along with remedial work arising from defective designs on other projects.
The announcement saw its share price slip to $14.25 after closing the night before at $17.45. The share fall wiped billions from the company's market capitalisation over a period of five trading days.
Now Australian law firm Maurice Blackburn, which is based in Melbourne, said it has begun taking registrations for a class action against the firm.
It alleges Lendlease broke Australian law by failing to properly inform its shareholders about serious issues in its engineering and services arm and by "engaging in misleading and deceptive conduct".
In a statement, Maurice Blackburn added: "We will allege that shareholders who purchased [Lendlease Group] ordinary shares between 21 February 2018 and 8 November 2018 (inclusive) paid an inflated price for those shares and should be entitled to recover some of their losses through our proposed shareholder class action."
It has given shareholders until 17 May to get in touch.
In February this year, Lendlease said a review of the engineering and services business meant it was now non-core and that it was "no longer a required part of the group".
The group blamed the division for slumping into the red in the first half, posting a pre-tax loss of A$31m (£17m) in the six months to December 2018, down from a A$624m (£342m) pre-tax profit in the previous year.
UK schemes Lendlease is working on include the new Google headquarters at King's Cross and One Bishopsgate Plaza in the City which includes a 5 star hotel and 160 residential apartments.
In a statement, Lendlease said: "Lendlease notes that no class action proceedings have been filed against the company and we would vigorously defend any such action."
Maurice Blackburn launched a class action against Multiplex back in 2006 alleging the firm failed to keep shareholders fully informed about problems it was having with rebuilding Wembley stadium.
The case, which saw the law firm represent more than 100 individual and institutional investors, was settled four years later for £63m although Multiplex made no admission of liability.