Ecobuild latest: Foster and Partners architect hits out at contractors over low levels of recyclable content in buildings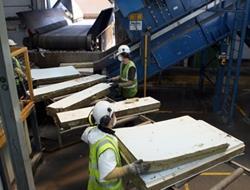 The "laziness" of contractors and engineers is the reason buildings do not have high levels of recyclable content, a partner at architect Foster and Partners has said.
There has been a push within the green building sector to focus on reducing the environmental impact of a building across its whole life, including after it is demolished, rather than just focusing on the impact of construction or the building's operation.
Speaking at Ecobuild, Gerard Evenden, design director and partner at Foster and Partners, said that the technology to include higher levels of recyclable content was available but it was under utilised.
He said: "What's important is overcoming the laziness of the industry. What I mean by that is that I sit regularly in meetings with engineers and contractors and ask what's new and what you get back is what you know.
"I look forward to the day I sit there and suddenly from the industry there's a whole new level of innovation. That's what's missing from the industry the technology is all there, but is the industry grabbing the innovation."
Evenden added that once the industry adopted technologies that could be recycled it would see a "boom in profit".