Lend Lease plans to develop a 905-home scheme on site in Deptford, South-east London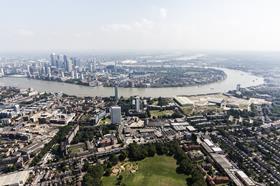 Lend Lease has acquired a site in Deptford in South-east London where it intends to develop a 905-home scheme, with 158,000 sq ft of non-residential space.
The site already has planning consent for a Hawkins\Brown-designed scheme, with the architects to be retained by Lend Lease.
The brownfield site, which is adjacent to Surrey Canal, was acquired from City & Provincial.
The purchase is part of Lend Lease's push into the London housing market, having won planning approval for over 3,100 London homes in three years.
Dan Labbad, Lend Lease's group chief operating officer and chief executive in Europe, said: "We have secured a strong residential pipeline in the capital. By recycling a number of mature assets we have released equity in order to reinvest in regeneration areas such as Elephant & Castle, Stratford City and now Deptford.
"Deptford is an area of London that will see a remarkable transformation over the next few years, drawing on its rich heritage and excellent transport links."