Lend Lease has won the contract to build Peel Ports' £300m deep-water container terminal in Liverpool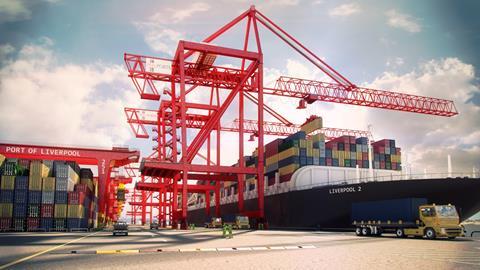 Lend Lease has won the race to build a £300m deep-water port in Liverpool for client Peel Ports.
The deep-water container terminal - known as Liverpool2 - will bring some of the world's largest container ships to the Mersey and is scheduled to open in 2015.
Lend Lease will deliver the overall programme and support operations and will collaborate with Peel Ports on design and management works.
Peel Ports Mersey managing director Gary Hodgson said: "The naming of the principal contractor is a vitally important move in the construction of Liverpool2, and we are confident that Lend Lease, with an impressive track record on major construction projects across the globe, is the right company for the job.
"This facility represents a transformational project for the Peel Ports business. It will bring thousands of jobs and economic prosperity to the Merseyside region along with the rest of the North West.
"The Liverpool2 brand will become known throughout the world as our new container terminal brings customers to the North West from all points of the compass from South America to the Far East."
Michael Dyke, executive director for Lend Lease project management and construction in Europe, the Middle East and Africa, said: "We are delighted to have been awarded this contract and are particularly excited at working with Peel Ports, as they seek to redefine such an important entry point to UK plc.
"This project is wholly consistent with our increased focus on economic infrastructure and reinforces our commitment to the EMEA region, given the significant contribution Liverpool2 will have upon the local community and the UK economy as a whole."
Liverpool2 programme director at Peel Ports, Douglas Coleman, said: "The naming of the principal contractor is a landmark stage in the development of the Liverpool2 container terminal, and there was massive interest from companies throughout the ports construction industry.
"We believe that Lend Lease is the correct choice to be our construction partner in what is a technically complex project."