Firm signs contract with Peabody for overhaul of south-east London scheme
Housing association Peabody and Lendlease have signed contracts to build more than 11,000 homes at Thamesmead, a project valued at £8bn.
But work is unlikely to begin until 2025 in order to get started on the new transport links the scheme will need to connect this part of south east London with the centre of the capital.
Speaking to Building, John Lewis, Peabody's Thamesmead executive director, said the new project, part of a 30-year regeneration of the Thamesmead area, was predicated on the DLR heading south across the Thames through a purpose-built tunnel.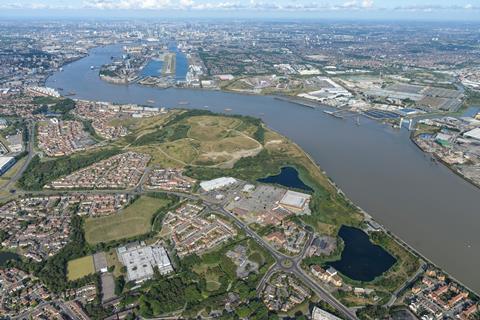 He added: "Two years ago [London mayor] Sadiq Khan committed to bringing the DLR across the river from Thamesmead, north to south, through a tunnel.
"Given the length of time it takes to get these sorts of infrastructure schemes done we estimate getting started on the homes in around six years' time."
When the Jubilee underground line was being built in the 1970s, there were plans for its route to take in Thamesmead, then a relatively new housing scheme but this failed to happen.
Lewis said: "We are confident the DLR will come across the river. We've got Crossrail coming to Abbey Wood but there aren't the sort of transport links in north Thamesmead, up by the river, that are needed. We want people to have access to both sides of the river, with people visiting from the north side and residents being able to travel in the other direction."
Lewis said the pair would now begin serious talks with the local council – Greenwich – plus TfL and the local community.
Neil Martin, the new chief executive of Lendlease Europe, said transport links had to be improved to make the scheme a success. "[They are] a vital part of the long-term regeneration of the area, as it will bring those new homes within reach of the heart of London."
The new 50/50 joint venture – officially known as Thamesmead Waterfront LLP – represents the largest development in Peabody's 150-year history, delivering 11,500 new homes on the 250-acre site (pictured), alongside new public amenities including new shops and transport links.
Peabody, which operates more than 66,000 homes across the capital and the south east, took over the Thamesmead estate five years ago.
Built in the 1960s, the housing scheme is home to 45,000 people and was used as a setting for Stanley Kubrick's1971 film A Clockwork Orange.
As revealed by Building, Lendlease beat Morgan Sindall to be named preferred bidder for the work back in February, Peabody having begun its search for a development partner in October 2017.
Lewis said work was also underway on initial phases of new housing elsewhere on the Thamesmead estate, with 1,600 new homes being built near Southmere Lake, while the housing association was spending £22m replacing windows on 19 towers across the estate.