Firm beats Morgan Sindall to land prized regeneration deal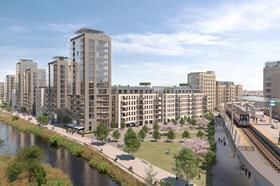 Lendlease has won Peabody's prized £8bn Thamesmead Waterfront regeneration scheme in south-east London under a deal that will last 30 years.
The firm had been battling it out with remaining bidder Morgan Sindall for the chance to work with the housing association to build 11,500 new homes in the London borough of Greenwich.
The winner will also help transform 1 million ft² of town centre commercial and leisure space.
Peabody is understood to have made the decision at a meeting last week appointing Lendlease preferred bidder.
Lendlease's chief executive in Europe Dan Labbad said: "We are excited at the opportunity to collaborate with Peabody, the local community and businesses, to bring new high-quality homes and workspaces to this part of London."
The details of the joint venture vehicle responsible for the work will be finalised over the summer.
The win is a coup for the Elephant & Castle developer which has had mixed success in the past year.
Last summer it was pulled from a £2bn housing scheme in north London for Haringey council, taking the authority to court before agreeing an out of court settlement.
But last month Lendlease was chosen as Birmingham council's development partner for a £1.5bn leisure and cultural scheme to revamp a city centre site called Smithfield which will take 15 years to complete and be the new home of the city's Bull Ring retail markets.
Thamesmead is set to benefit from London mayor Sadiq Khan's proposed extension of the Docklands Light Railway across the river from Newham to Thamesmead.
Peabody chief executive Brendan Sarsfield said: "With a new DLR river connection complementing the Elizabeth Line [Crossrail] on the other side of town, Thamesmead would be more connected to the city than ever before. This would unlock enormous potential and could be a real game-changer for this part of London."
A concept masterplan for Thamesmead Waterfront has been produced by architect Lifschutz Davidson Sandilands.
The site has 2.5km of undeveloped river frontage and extends to almost 250 acres just east of Woolwich. It currently features green space with open grassed and wooded areas, two major lakes and an existing town centre.
The scheme, which the housing association said is one of the largest regeneration projects in Europe, is the biggest undertaken by Peabody in its 157 year history.