Firm will extend Richard Seifert-designed scheme to provide 260,000 sq ft of office space
Lendlease has been appointed to deliver a £120m office retrofit job for developer Northwood Investors.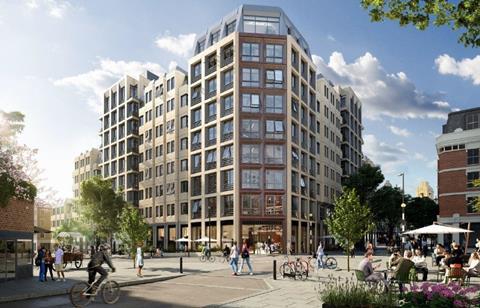 The firm will retrofit 90 Long acre, retaining over 80% of the original structure designed by Richard Seifert. It will expand the existing development from eight to 10 storeys, delivering 260,000 sq ft of office space and 20,000 sq ft of amenities and public space.
The scheme, designed by Gensler, will be "all electric" and is expected to be net zero in operation, according to Northwood. It will have blue roofs for rainwater harvesting, which Northwood said would reduce water usage in the building by 50%.
Northwood said the decision to refurbish instead of building a new development would cut the embodied carbon in half saving 4,850 tonnes of CO2.
Platform will work on the project as development manager, with Arup as engineers and Core Five as cost consultants.
See also>> Lendlease blames covid as firm racks up £21m loss
See also>> Trends and prices data dashboard
Simon Gorski, managing director of Europe, Lendlease Europe, said "90 Long Acre is a landmark office building and this is a huge opportunity to modernise the structure and create a workplace that is fit for a post-covid world."
Valeria Segrovia, design director and principle at Gensler said: "Our latest workplace survey shows us that return to the office is driven by in-person collaboration in an office which is healthy, inclusive and safe.
"There's a new focus on sustainability and companies are looking for buildings which reflect these values even more post-pandemic. Designing this building with Northwood immediately before and during covid ensures that we are able to meet the needs of both businesses and talent."