New leadership team at Haringey council campaigned against plan in last month's local elections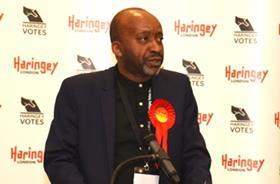 Lendlease is set to find out next month whether the new Labour administration at Haringey council in north London will junk its controversial £2bn joint venture with the authority to build thousands of new homes across the borough.
Called the Haringey Development Vehicle (HDV), new council leader Joseph Ejiofor, had campaigned on a ticket which included scrapping the JV, which has proved divisive with opponents saying it doesn't include enough affordable homes and will price local people out of the area.
A cabinet meeting of the new council will meet five weeks today on 17 July with speculation rising that the proposal will be formally ditched then.
Ejiofor (pictured) told local paper the Ham & High last week that he was still opposed to the scheme.
"I made it clear [at a recent meeting with the 'Stop the HDV' campaign group] what the council's position is. I'm more than happy for people to continue to put pressure on us. It's part of democracy.
"Anyone who has spoken to me over the past six months knows my position," he added.
Ejiofor is a senior member of the left-wing campaign group Momentum, the grassroots organisation set up three years ago that backs Labour leader Jeremy Corbyn.
Last month Corbyn added his voice to those calling for the HDV to be scrapped.
Ejiofor is understood to be looking at Preston council's model of giving contracts to local companies to stimulate the local economy as an alternative to the HDV.
News that a decision will be made next month on whether to abandon the plan, which involves building more than 6,000 homes, has prompted some to query whether Haringey will be able to build all the properties promised under the HDV.
A number of high-profile staff have left in the past 18 months, including former chief executive Nick Walkley at the end of 2016 to take up the chief executive role at Homes England, and Claire Kober, the council leader who quit earlier this year after 10 years in the post.
Alan Strickland, one of the key backers of the HDV, started a new role as director of external affairs and partnerships at housing provider Optivo last month after standing down as a Labour councillor last November while the council's head of regeneration Lyn Garner left last December after six years to become the London Legacy Development Corporation's new chief executive.
Sources have said the brain drain has left the council without the know-how to get an alternative to the HDV up and running.
One told Building: "Lots of good people have left which worries developers. I don't think developers would go there at the moment.
"I don't think [the new council] understand the consequences of not delivering housing on things like homelessness, the availability of affordable housing, having to find temporary housing. Now Momentum has been inserted into the mix, you're looking at years and years of inactivity. They're also in danger of missing the next property cycle."
Following last month's local elections, Lendlease's managing director of its property arm Jonathan Emery told the council's new leaders the firm wanted to meet them. But it is understood this offer has so far fallen on deaf ears and no meeting has taken place. Lendlease declined to comment.