Opposition leader says newly elected Labour council in north London needs to find alternative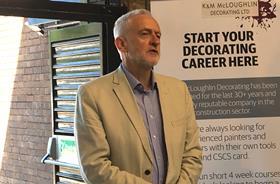 Opposition leader Jeremy Corbyn has called for the controversial £2bn joint venture between Lendlease and Haringey council to be scrapped.
The Labour council in the north London borough is being led by Joseph Ejiofor, a senior member of the Momentum activist movement who spoke out against the regeneration plans before and during the local party's successful election campaign.
Speaking to Building, Corbyn spelled out his own opposition to the Haringey Development Vehicle, as the venture is officially known, saying he believed it had to be scrapped.
"There has to be a new development model in Haringey," the Labour party leader said. "The new council has only been elected last week and its group positions have not been sorted out yet.
"I am expecting that they will go in for a big development programme because clearly housing needs are huge in Haringey. But what they will not do is the sort of agreement that was being sought with Lendlease, which would have ended up with the transfer of a lot of assets to the company. I think there will be a change."
Lendlease, which was appointed preferred bidder on the scheme last July, has sought a meeting with the new leaders of Haringey council in the hope of rescuing plans to build thousands of homes in the north London borough.
Opponents of the project – which involves building 6,000 homes – fear locals will be priced out of the area and that the joint venture will lead to the loss of public assets to the private sector.
The former council leader Claire Kober, who backed the deal with Lendlease, resigned soon after the Labour party's National Executive Committee told her in January to put the deal on hold.
Corbyn also sent a warning to large contractors who delay payments to their small suppliers.
At the launch of a construction training programme, Corbyn said in the wake of the collapse of Carillion, which was notorious for paying on 120-day terms, large contractors had to be held to account for their payment practices.
Corbyn said government needed to demand prompt payment from its contractors in order to support smaller businesses.
He said: "From the point of view of small contractors there has to be a guarantee of 30-day payment.
"There needs to be more than a payment code, a payment law. I think it needs to be enshrined in law. You cannot not pay somebody within 30 days. What Carillion was doing was 120 days payment which for a small contractor was devastating.
"If a company of the size of Carillion got a contract from government you could say 'well your behaviour has to include training, living wage, health and safety but it also has to be payment of all you sub-contractors, with the same conditions on them, must be within 30 days'."
Corbyn said Carillion's collapse and the skills crisis both highlighted concerns from workers in the construction industry about stability and job security.
He said: "You need confidence in the construction industry. You need secure long-term employment. You need much higher skill-levels and retraining because skills change. We do not invest enough in physical skills in this country.
"Apprenticeships should be seen as something that is public good for all of us and not a source of cheap labour.
"There has to be some system of guaranteeing apprentices get jobs in the industry when they finish because falling off at the end of the apprenticeship is devastating to the individual."