Liverpool's Chinatown is set to expand following planning consent from Liverpool city council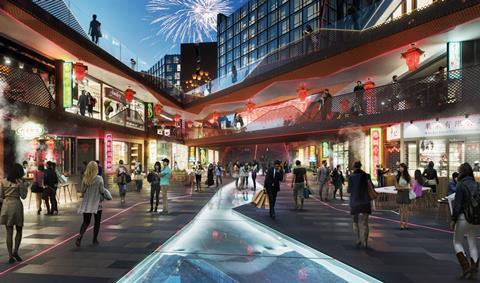 Liverpool City Council has approved plans for the £200m regeneration and expansion of the city's Chinatown.
The project by developer North Point Global comprises nine buildings ranging from five to 19 storeys and incorporates 790 homes, 120,000 sq ft of mixed commercial units and a 131-bed hotel.
It will be built over three phases and aims to create a hub for Chinese businesses and retailers anxious for a foothold in the UK. The project's lead architect is BLOK Architecture.
The first phase - a seven-storey building incorporating 117 apartments and ground floor commercial space - will be completed by the middle of 2017.
The other eight remaining buildings ranging from six to nineteen-storeys will be built in phases two and three, housing 673 residential units. Phase three will also see a Shanghai-inspired sunken street in the form of a 'Chinese themed Bazaar'.
North Point Global is backed and funded in the venture by its Chinese investment partners and the UKTI's Regeneration Investment Organisation - it was selected as the preferred developer for the site back in June by Liverpool City council and former site owners Urban Splash.
Lead architect for the scheme, Antonio Garcia for BLOK Architecture said: "From the beginning we have had a vision for an essentially Chinese development that will breathe new life and vibrancy into an historic but recently declining area.
The Chinese theme has informed our design philosophy, the mix of uses and in particular the new retail and commercial core that will become a major new destination within the city."
North Point Global chair Peter McInnes said: "This has been an incredibly intensive process to deliver planning on a project of this scale in such a short time period, but it underscores the importance of the project to the city and the Mayor's determination to progress a key strategic site.
"This is potentially one of the most exciting and original developments being delivered in the UK today. It has caught the imagination of everyone from local politicians, investors, the UK Government and the community. New Chinatown will be creating a city within a city, and we see enormous potential for additional phases and creating a destination of international scale and appeal," he added.