Phase one of construction will include a new car park, hotel and office space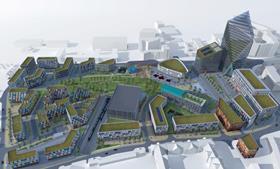 Approval is being sought to begin infrastructure works on the site of the £1bn Paddington Village in Liverpool, which will soon be home to the Royal College of Physician's (RCP) new northern base.
The city council is being asked to give the green light later this week to site works on seven plots in the run-up to the first phase of construction, which will include a new car park, hotel, office space and a district heating system.
Morgan Sindall, the contractor for the infrastructure works, has come up with an indicative design for the car park, which could be put to planners next month.
A new learning centre for the Liverpool International College and a new Rutherford Cancer Centre North West have already been given planning permission, with both scheduled to open in 2019. An application from the RCP is expected early next year.
Paddington Village is part of the 450-acre Knowledge Quarter in Liverpool, which encompasses a number of higher education institutions, including Liverpool John Moores University and new Royal Liverpool University Hospital.