Collins Construction says it has tested more than 230 people this week

South London fit-out specialist Collins Construction has become the first contractor to give onsite covid-19 antibody blood tests to its employees – with half of its staff testing positive.
According to the Hammersmith-based Corona Test Centre, which carried out the tests, the £145m turnover firm is the first UK construction company to offer onsite testing to staff.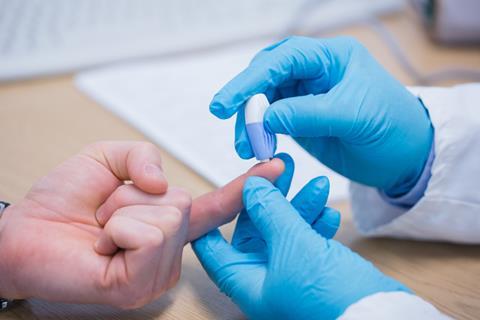 The centre, which uses diagnostic machines from a South Korean biotech company and follows the same testing protocol used widely in Germany during the pandemic, carried out the tests over two days this week.
Tony Turner, director of health and safety at Collins, said the test had been offered to employees working onsite as well as those at its Croydon head office.
He added: "When the pandemic started, we followed the Construction Leadership Council and government advice on what we should be doing and we tried to stay one step ahead.
"We started checking temperatures on site in March. We had a dedicated person on site to sign people in and check temperatures."
Turner said: "[Corona Test Centre] offered to give me a test and show me around their facilities and I was very impressed, plus the government has been using the same test equipment.
"I came back and said this is something we could be doing both for our business and the welfare of our employees."
He said 127 of the firm's 130 staff had chosen to take the test while a further 104 people who are either subcontractors or friends and family of Collins staff also took the test.
Tests usually cost £175 per person but Collins was given a discounted rate of £100 per person which was also offered to subcontractors across the firm's 19 sites as well as families of employees. The firm covererd the cost of employees tests.
The first round of testing took place on Wednesday at 68 King William Street, near Monument tube station, where Collins is refurbishing an 11-storey retail and office unit, previously occupied by a House of Fraser store. It is the first time the centre has tested outside their clinic in Hammersmith. A second day of testing at its head office took place yesterday.
Results are emailed back within 24 hours and of 131 people tested on Wednesday, 50.4% tests came back positive.
Turner said the testing programme will allow the firm to look at individual employee's profiles and make additional provisions to protect those who might be at greater risk of catching the virus.
Meanwhile, the firm said it had made 35 redundancies in April because of the pandemic. "We anticipated a significant drop in productivity and this is what we have experienced," managing director Jason Warren said.