Build rate in capital slipped last year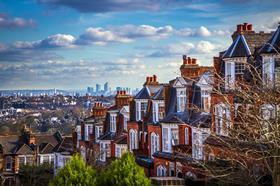 London's failure to increase its rate of housebuilding is one of the main factors exacerbating the UK housing crisis, government figures have revealed, writes Joey Gardiner.
According to the government's recently introduced standard method for assessing housing need, England needs to build 196,000 homes each year outside the capital.
Last year the regions came close to this target, providing 190,472 new homes, with all regions in the Midlands and Northern England exceeding their quotas.
But in London the build rate declined, creating a gap between the measure of need – 77,000 homes a year – and the 31,723 homes built in the 12 months to April, a two-and-a-half-fold difference.
Consultant Stephen Hill, director at C20 Futureplanners, said: "With London you always come back to the big gap in perception of the scale of the problem. We've never done these numbers we're talking about. There's a mismatch between expectations and the means of delivery."
Many in the industry have raised concerns about the policy direction of London mayor Sadiq Khan, who was elected two years ago promising to make building more homes his "single biggest priority" and pledging to build 65,000 homes a year.
Some have flagged Khan's requirement for schemes to provide 35% affordable housing or else face lengthy review processes as an issue making some developments unviable.
Anthony Lee, head of development consultancy at BNP Paribas Real Estate, said developers in the capital were agreeing to these affordable housing levels to get consent but then finding they could not deliver.
Others said the draft London Plan, though not yet formally in effect, was already holding things up.
Dan Osborne, London planning director at consultant Barton Willmore, said councils are struggling to work out how to put the new policies around affordable housing into practice: "The London Plan has put the cat amongst the pigeons. It's very prescriptive and councils are taking a while to digest it. It seems like everything I'm working on is stalled in planning."
Published last December, the draft London Plan highlights a need for 66,000 homes a year in the capital, and proposes abolishing existing density limits to increase the number of homes delivered.
It says there is capacity in the capital to deliver 65,000 homes, primarily in identified "opportunity areas", and sets out an ambition for half of all homes to be affordable.
A spokesperson for Khan threw the blame back at developers, saying the fall-off in build rates was a symptom of developers having "become addicted to soaring house prices," and questioned the value of simply building "more luxury flats".
The spokesperson said: "We are now seeing the comedown, compounded by the government's chaotic mishandling of Brexit. These figures confirm why [the mayor] has the right approach by focusing on building new council, social rented, and other genuinely affordable homes."