Architect says decision to leave EU risks 'ability to attract best graduates from beyond our island'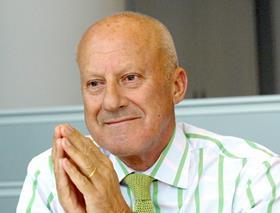 Architect Norman Foster has warned that Brexit is putting London's ability to attract overseas talent at risk.
The founder of Foster & Partners made the comments in a statement accompanying the firm's latest results with the country's biggest architect seeing revenue for the year to April 2017 falling 5% to £245m with pre-tax profit slipping 10% to £25.2m.
The 82 year old peer (pictured) said: "We thrive and contribute to the wealth of London by virtue of our ability to attract the best graduates from beyond our island nation.
"That is a strength and should be recognised as such. London is a melting pot for international expertise and needs to maintain that edge. It is already under threat."
His practice employs close to 1,300 people which consists of 77 nationalities – the majority of whom are based in the firm's London office – with the company saying that 39% are European, 38% from the UK and the remainder from the rest of the world.
He added: "We owe it to future generations to look outwards, not inwards and to positively encourage the influx of talent. That attitude is inextricably linked to our shared economic future."
Foster's comments come as former RIBA president Jack Pringle warned that last week's leaked Home Office proposals about limiting the ability of EU nationals to work in the UK would prove "catastrophic" for the industry.
Writing in this week's Building, he said: "The Home Office wants the government to decide who can come in, not employers. That will be catastrophic."
The measures include offering residency for a maximum of only two years for lower skilled EU migrants while those in "high-skilled occupations" will be granted permits to work for a longer period of three to five years.
Accusing Brexiteers of not having a plan, Pringle added: "Events are moving quickly so this is no time for pussy-footing around. Our leaders in our professional bodies need to drop on these issues like a ton of bricks or we will find ourselves led by the neck by Home Office red tape to an isolationist, less talented and less capable future."
Last week Scape chief executive Mark Robinson said the government has no idea what to do about Brexit and its bungling over the past year was now put the industry at risk, with the boss of the public sector procurement organisation adding that the "government needs to get its act together and put a more positive plan in place".