Consortium including Keepmoat begins huge regeneration scheme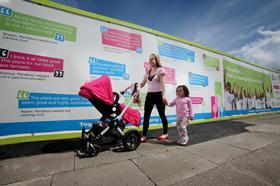 A long-awaited £650m scheme to regenerate the rundown area of Pendleton in Salford began on site today.
Consortium Pendleton Together – which includes regeneration contractor Keepmoat – will build or refurbish 1,850 homes in the area and create workspace for 24 SMEs.
Start on site comes after the scheme was approved by the government's Homes and Communities Agency and follows ten years of campaigning for regeneration by Salford City Council and local residents.
Salford City Council has agreed a 30-year public-private partnership with the consortium, which also include social landlord Together Housing Group.
Alongside the new homes, the consortium will deliver ten hectares of new public space, including allotments, walkways, cycle routes and a community farm.
Pendleton is a densely populated area of Salford a mile from Salford Quays.
Ian Stewart, Salford City Mayor said: "This is great news for local people.
"It's a tremendous relief that all our behind-the-scenes work to persuade the Government to give the go-ahead, has finally paid off. I would like to thank all the team involved for putting Pendleton's interests first.
"A lot of work has been done in recent years to regenerate the local area and provide new opportunities for local people. Despite severe cuts to Salford, we're doing good things in bad times.
"This scheme will help transform Pendleton, its homes and environment – it will bring real hope of a better future to local people."