Latest accounts also show firm's UK construction business racked up £100m-plus loss in 2019 after running into problems on London contracts
The scale of the energy-from-waste disaster at Interserve has been laid bare in its latest report and accounts with the firm's losses from the sector now topping an astonishing £300m.
Its move into energy-from-waste (EfW) helped send the firm crashing into a pre-pack administration two years ago and in accounts filed for 2019, the company said cumulative losses at EfW had now hit £302.4m between 2015 and 2019.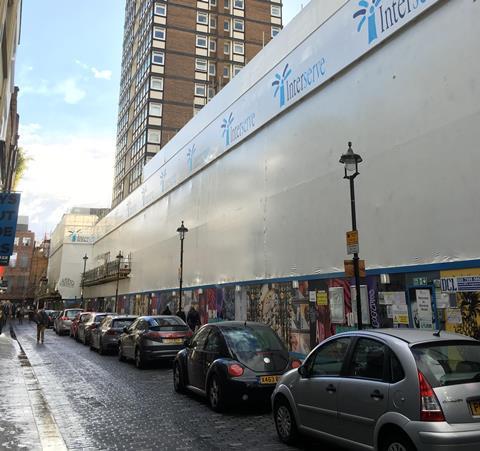 The 2019 report, filed at Companies House, is the first set of accounts released by Interserve since the plc business went into the pre-pack two years ago this month and delisted from the Stock Exchange, later re-emerging as Interserve Group under a debt-for-equity deal with its lenders.
> Also read: Welcome back Tilbury Douglas, goodbye support services
The EfW debacle saw it rack up another £73m in losses from its work at schemes in Glasgow and Derby, which included writing off its £17.6m investment in the PFI joint venture building the Derby plant, called Resource Recovery Solutions, which also includes waste management specialist Renewi.
A further £29m was lost after a performance bond on the same scheme was called in by the client Derby city council and Derbyshire county council.
The firm, which said it had received £18.5m in 2020 under a professional indemnity insurance policy claim on the Derby project, added that it had earmarked a further £3m for the cost of closing out the Derby scheme.
The firm has still not agreed a final account settlement with client, waste management specialist Viridor, on the Glasgow scheme, which it won in 2012 but was booted off in December 2016. Interserve said its maximum remaining liability at Glasgow will be £26m although Viridor has said the figure could be closer to £44m.
Meanwhile, Interserve added the cost of leaving the London construction market hit £19m, on top of the £25m it had shelled out the year before, while other losses included the £4.3m cost of shutting its joinery and consulting services businesses. It said various UK construction contracts racked up a further £4.4m in losses.
Other costs, such as a restructuring bill of £10.8m, which included redundancy costs, and £46.4m spent on advisory fees relating to the pre-pack, helped send Interserve to a total operating loss of £413m in 2019.
Interserve separated out its EfW business and away from its contracting business more than three years ago to allow the construction arm to deal with its non-EfW contracts.
But the UK construction business, which last week rebranded as Tilbury Douglas, still sank to a £108m operating loss in 2019 from a £2.3m profit the year before. Revenue from the UK business was down one third to £485m.
The firm said construction's three-figure loss was due "largely to losses incurred in London on a number of projects, which we have exited or are in the process of exiting".
It has largely pulled out of overseas contracting, which saw revenue slip 23% in 2019 to £191m, selling its business in Oman for £12.4m in November that year while last April it sold its Abu Dhabi engineering arm for £23.6m. Last September it offloaded its 49% stake in UAE-based Khansaheb civil engineering for £21.2m.
Its equipment business, RMD Kwikform, saw revenue slip 11% to £165m during the period, while operating profit shrank 59% to £16m.
Group net debt stood at £413.6m at the year-end and chairman Alan Lovell, in a statement signed off last month, said the firm was prepared to sanction more disposals, which could include the Kwikform and construction businesses, after the firm sold its £1.4bn turnover support services business to Mitie last November for £205m. "Where opportunities exist to realise shareholder value by further divestment, and where this also makes sense for our business, we shall continue to explore these opportunities," he said.
Overall group revenue for the year to December 2019 was down 19% to £2.6bn. The firm said finance revenue of £458m following the debt-for-equity swap helped it narrow pre-tax losses from £128m to £47m.