US investment bank moving into new HQ at Farringdon
Mace has won a £50m scheme to revamp the Paternoster Square office of Goldman Sachs when the US finance giant moves out later this year.
The investment bank is swapping St Paul's for a new groundscraper building on Farringdon Street designed by KPF and built by Multiplex, a job which Mace came second on.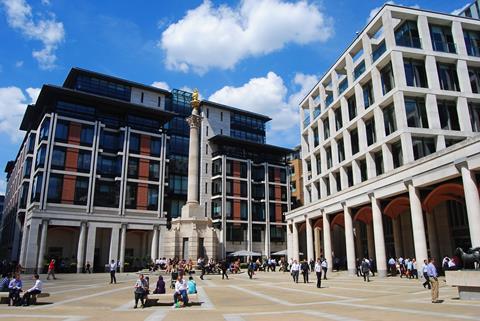 The firm moved into its current office at Warwick Court when Bovis Lend Lease completed the wider Paternoster Square redevelopment in the shadow of St Paul's Cathedral for Stanhope and Mitsubishi Estates 17 years ago.
Goldman Sachs and a number of other firms based in the 11-storey building are due to move out by the end of the year.
Mace, which beat pitches from Sir Robert McAlpine and Lendlease, is set to start work early next year.
The work will involve expanding floor space to 300,000 sq ft under a plan drawn up by architect Fletcher Priest. Others working on the scheme include QS Alinea and structural engineer Waterman.
Developer on the scheme is Stanhope for building owner Mitsubishi.