Firm worked with KPF and AKT II to extend tower by 11 storeys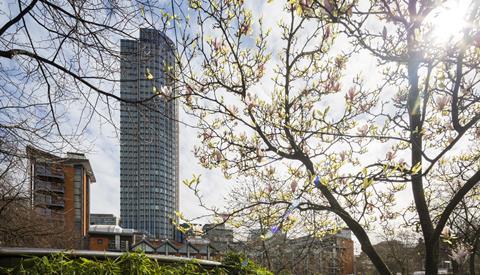 Mace has completed work on its innovative South Bank Tower residential project in London, successfully modifying and extending a 1970s tower by 11 storeys.
The 42-storey tower, originally known as King's Reach Tower, has been overhauled for client CIT.
It now contains 193 luxury apartments, while an adjacent building, also remodified, contains 370,000 sq ft of offices, 72,000 sq ft of retail space and a 10,000 sq ft communal roof terrace.
Mace, working with architect KPF and engineer AKT II, also reduced the tower's original concrete core by 50%.
Mace began work on the project in 2012, and its works included using the highest temporary external staircase in London during construction as well as the tallest tower crane in London.
Many of the building's elements were prefabricated, including much of the building services and bathrooms.
Shaun Tate, Mace project director, said: "It's been fantastic working on this project which has involved a lot of innovation and collaboration. I have learnt a lot personally and will take these learnings with me to other jobs and projects. The wider team can also take away some great lessons and it's a job well done to all of them. Everyone who worked with us including consultants, suppliers, engineers and KPF did a great job.
"Of course there have been challenges but with the team's commitment we have now completed the project, which stands proud in the heart of the South Bank. I also want to thank the local residents and businesses for their ongoing support throughout the build."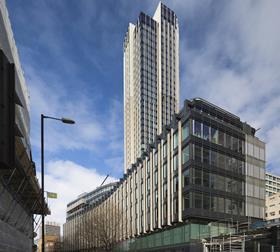 Steve Riddell, director of developments at CIT, said: "Mace have successfully delivered a very complex construction project which entails extensive re use of existing structures, basement construction adjacent to 100 occupied flats, new built construction and a 11 storey extension of an existing 31 storey tower. It also includes mixed uses - office, retail and 193 luxury flats.
"This project was extremely challenging and Shaun and his team have delivered it to the highest quality, safely and on time. CIT wish to congratulate Mace on the successful delivery of one of our most important flagship developments."
The project achieved a BREEAM Excellent rating.