Derwent London bringing forward deliveries 'on all of of our projects'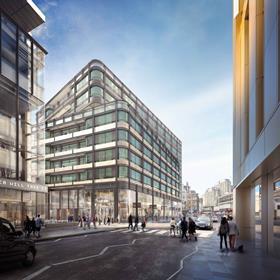 A growing number of firms are beginning to ramp up preparations for the UK crashing out of the EU, with one major London client telling Building it was bringing forward packages of work on its jobs to ensure materials were not snarled up at overseas ports.
Firms have been stockpiling materials for some time now but Derwent London said it was accelerating deliveries of materials to its sites to make sure they didn't grind to a halt in the wake of a no-deal Brexit.
The firm's head of development Richard Baldwin told Building: "We are working closely with the supply chain on all of our projects to bring forward deliveries and acknowledging the additional cost of double handling."
Baldwin, whose firm is behind a string of high-profile schemes in the capital including the White Collar Factory and the Angel Building and whose current jobs include AHMM's £260m Soho Place office scheme (pictured) on the corner of Oxford Street and Charing Cross Road, said he was most worried about "the potential impact on the timely flow of materials and construction components and labour to projects".
He added the volatility of foreign exchange rates was also a growing worry, making it difficult to predict the cost of imported materials.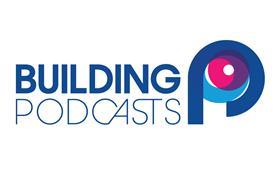 Catch up: Listen to Building's Brexit podcast, including interviews with Mark Reynolds, the CPA's Noble Francis, and Richard Steer of Gleeds
UK construction sites are reliant on around 25% of products coming from overseas with close to 40% of this figure coming from the EU.
Baldwin was among 100 or so senior figures from the industry to attend Monday's emergency summit on Brexit, convened by the Construction Leadership Council (CLC).
Others attending the event at the Institution of Civil Engineers' headquarters in central London included Mace boss Mark Reynolds, who is a member of the government-backed CLC, Skanska's UK chief executive Greg Craig and Bruno Dupety, the chief executive of Vinci's UK arm.
CLC member Simon Rawlinson, head of strategic insight at consultant Arcadis, who also attended the summit, said: "People still expect there to be a deal or a delay [to Brexit] that gets us past 29 March [when the UK is due to leave] but there are enough businesses thinking [no-deal] is close enough and significant enough [that] they have to take measures that will incur costs. They could be doing other things with that money."
This week's summit followed a meeting last month between Reynolds and Craig and Cabinet Office permanent secretary John Manzoni. "[The advice was] plan for the worst, hope for the best," said Reynolds. "We were thinking this is getting pretty serious."
Reynolds said the most pressing concern about the UK leaving the EU without a deal was the impact on importing materials such as steel, aluminium and timber. "The movement of goods is crucial. It's a huge risk to the industry."
He added that a no-deal Brexit would "almost certainly [see] some form of delays" on jobs, costing firms money.
And he admitted there would be "some casualties" from a no-deal Brexit, with the Construction Products Association suggesting crashing out of the EU would lead to a 4.2% drop in output over the course of this year.
A report by Netherlands-based insurance giant Atradius said a "disruptive" exit could result in UK corporate insolvencies being 14% higher – around 2,300 more firms – than under a smooth transition.
The CLC said it would be producing an action plan this week which will include setting up a group on how to recruit and retain foreign nationals and to work with products manufacturers over compliance with regulations following Brexit.
Prime minister Theresa May has said she wants to open renegotiations with the EU next month after her original withdrawal agreement was voted down in the House of Commons by a historic margin earlier this month.
An amendment by Tory MP Caroline Spelman to reject a no-deal Brexit was passed by eight votes in the House of Commons last night – although the vote is not legally binding. But an amendment put forward by Labour MP Yvette Cooper to delay Brexit in order to prevent the UK leaving without a deal, which could have been legally binding, was rejected.
An amendment to change the so-called Northern Ireland backstop was approved which May said paved the way for renegotiations with the EU to begin – but the EU again said the withdrawal agreement was not open for renegotiation.