Lack of skilled tradespeople forcing two thirds of smaller builders to turn down new work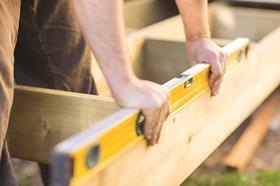 Two thirds of small businesses are turning down work due to the growing skills shortage according to a survey from the Federation of Master Builders (FMB).
The survey found that 66% of the FMB's 8,500 SME members were turning down new business due to a lack of resource and nearly half of those surveyed are having to outsource work to third parties.
The survey found that there is a chronic shortage of bricklayers and carpenters in London, while the West Midlands is in dire need of scaffolders.
Tony Passmore, chief executive of Passmore Group, said: "The lack of experienced multi-skilled workers is a huge concern for my business, as it could affect our future growth plans. We urgently need tradespeople that are trained in more than one area, such as plumbing, tiling and joinery for bathroom installations - but we just aren't seeing the candidates come through."
Respondents to the survey said they had difficulty in finding apprentices and that the lack of apprenticeships being offered was a primary reason that potential candidates had been held back from joining the construction industry, as well as pressure from parents to stay in full-time education and the perception of low wages.
Hayley Ellis, FMB director of training and membership services, said: "We're aware that there is a desperate need for new apprentices to join the construction industry.

"We'd encourage those receiving their GCSE results tomorrow who feel unsure of what to do next to properly explore their options and consider the building industry – particularly through apprenticeship schemes. The construction industry offers fantastic earning potential and a whole host of exciting careers."
According to the FMB, the industry needs around 35,000 new apprentices just to cope with demand, however in 2013, only around 7,000 apprentices completed their training.